Responding to COVID-19
Deanne Ella Melgar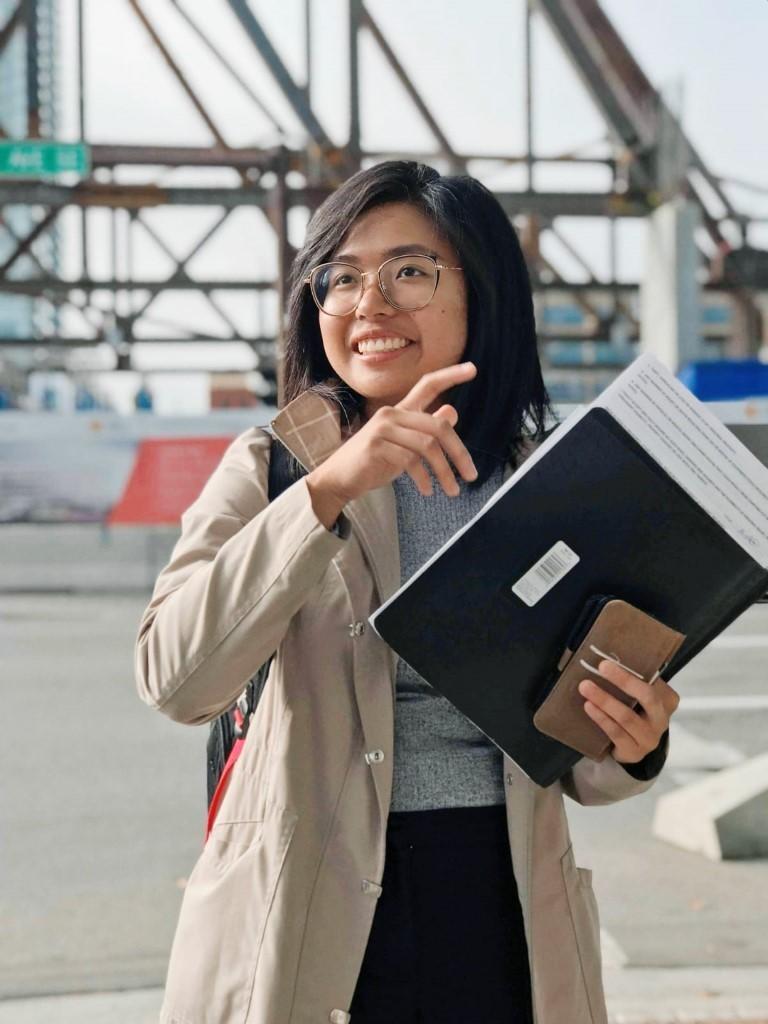 Sewing skills put to work with donated fabric sparking face-mask campaign
I spearheaded a face-mask campaign after the final exams. The idea came to me when I saw a post of a fellow Calgarian on social media. He was asking if someone had any spare face masks because he wanted to take his child to a doctor's appointment and had to take the bus, but he couldn't find one anywhere. This was around March. I knew there are more people out there with a similar situation, so I decided to act. 
I also launched a clothing company called NAYON with my boyfriend, Luis Molina, a Business Administration-Marketing student, recently. It translates to "community" in my native language, Tagalog. It is indeed a good platform to help our community. Right now, we are doing a campaign where we donate our profits to provide Personal Protective Equipment to doctors working in the frontlines against COVID-19 in Nicaragua and donate school supplies for students in the upcoming school year in the Philippines as they move to distance learning and could not afford supplies. I am still waiting for a response to make affordable ventilators for one project. I am also currently completing a personal research project on building temporary and affordable relief centers since hospitals in some countries are getting overwhelmed with patients. 
 If your heart tells you to do something, do it. You never know who you'll inspire. 
Deanne Ella Melgar
4th year student
What inspired you to pursue volunteer activities, or why is volunteering important to you?  
Community service has always been part of who I am. I started out by visiting homes for abandoned elderly and sick children back in the Philippines. I was so touched by the whole experience that I continued to take part in volunteering activities as much as I can. I volunteered for homeless shelters, literacy programs, non-profit organizations and more. Growing up in a third-world country, I knew how hard it was to earn a living. At a very young age, I was taught about the importance of education, so I grabbed every opportunity to learn. The more I learned, the more I was able to help others. When my family moved to Calgary and I got accepted to the Schulich School of Engineering, I knew this was my chance to really make a difference.
As a future engineer, what role do you see engineers playing in society during times of crisis? 
Engineers are equipped with the knowledge and resources to spark and create change and to build safer spaces for society to thrive in during and post-crisis. We can redesign structures that would serve their function even during times like these and continue with daily activities with minimum risks. We can create equipment that can be used to solve problems, like building emergency shelters for victims of natural disasters, building temporary spaces to admit hospital patients when capacity is reached and invent low-cost medical equipment to help battle current and future pandemics.  
What advice do you have for other students who are interested in volunteering?  
It may seem like what you are doing or what you can do will make a small change in the world, but it means a lot to someone in need. We are very lucky to be in a place where there are lots of opportunities to help others. It is not only beneficial for the community, but it will also build skills that you can use in your future careers. Let us use the concepts we learned in class and apply them in real-life situations. If your heart tells you to do something, do it. You never know who you'll inspire.