Responding to COVID-19
Helen Habteab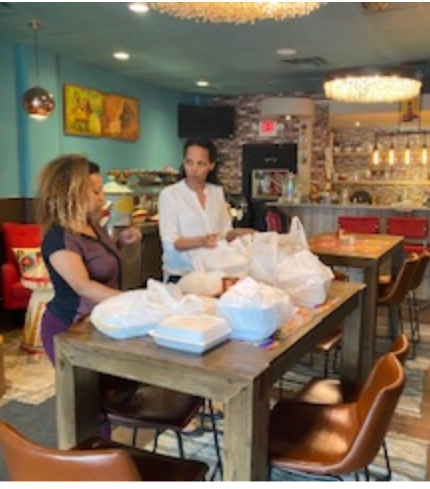 Helping high-risk people stay safe and stay home
I believe, this is the time we have to unite and support each other, and especially for all the health staff out there who are risking their life to control the spread. When the Alberta Health Care gave the PSA for people to stay at home in March. I thought of helping seniors around Calgary by picking up and dropping groceries at their homes. So I discussed the idea with one of my professors and he liked the idea, and even spoke about it with the dean. However, they did not approve it because of the seriousness of the Covid-19 liability. So I started looking for other places where I could give back to the community. After several searches I found out about Yegna Ethiopian Cuisine & Coffee who are feeding around 100 people per day.  Most of which are people affected by Covid-19. Also the Eritrean Canadian Community Association of Calgary –( ECCAC) emergency response team Covid-19 were looking for volunteers who could help with the community. Like helping those who need EI and other support. I was happy to help by giving calls to more than 60 people in the month of May.
(Volunteering) helps me to network with other people, find more resources and get more knowledge about the things I am interested in.
Helen Habteab
3rd year student
What inspired you to pursue volunteer activities, or why is volunteering important to you?
It's creates a sense of satisfaction in me when I give back to the community very little kindness, it helps me gain more confidence when I associate with other people and builds my self esteem. And It helps me to network with other people, find more resources and get more knowledge about the things I am interested in.
As a future engineer, what role do you see engineers playing in society during times of crisis?
Engineers can help in the building of more medical facilities such as buildings, ventilator and masks or facial protector using 3d-printer to help in protecting the society from infected of such diseases.
One of my plans for July and August is to inspire young high school students in number (about 20) to engineering. Since Covid-19 lockdown, it can be hard for them to get summer jobs or summer activities as usual because of covid-19, so I am planning for those young people to keep them busy with discussions and some projects (in zoom meeting) twice per a week for 2-3hours/day.
What advice do you have for other students who are interested in volunteering?
Volunteering will really help them know more about the paths they want to take in the future, it will also equip them with the knowledge and skills they need for their future careers. Also, it will help them build their network and get to know more people
As I mentioned above my plans for summer,  I really encourage them not to stop because they don't have place to volunteer, they can organized voluntarily tutorial for high school student and I believe they will gain some positive skill in their resume and on the kids life they will be a positive impact.