Early Achievement Alumni Award
Graduated from their last awarded degree at the Schulich School of Engineering within the last 10 years
Exceptional professional development and accomplishment during their career
Accomplishments serve as an example to the engineering community
Serve as an inspiration to engineering and the Schulich School of Engineering community
2019 Early Achievement Alumni Award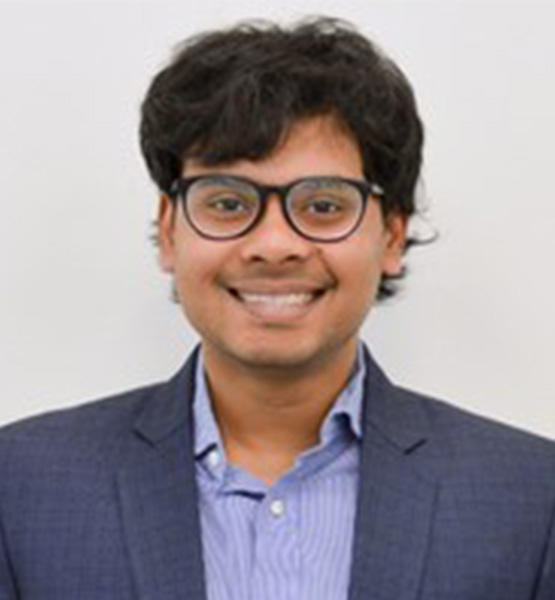 Tushar Sharma

, PhD (Eng) '18
Having recently defended his PhD thesis, Dr. Tushar Sharma has already demonstrated research and community leadership at the university, provincial and international level. As President of the Electrical and Computer Engineering Graduate Student Association, and Chairperson of the Institute of Electrical and Electronics Engineers (IEEE) Young Professionals, Tushar developed numerous industry partnerships and successfully organized multi-disciplinary initiatives, workshops and lectures in Alberta.
Tushar has never been one to follow the beaten path, and his early career achievements reflect this.  The common thread in his impressive list of accomplishments is a determination to apply his considerable knowledge and energy to real-world problems.
As a graduate student at the University of Calgary's iRadio Lab, he earned recognition from NASA for his efforts developing and promoting radio astronomy, reaching out to students in both India and Canada. He joined the Southern Alberta Chapter of IEEE, and was named their top young achiever in 2015.
One community outreach initiative started simply, with a trip to Siksika Nation east of Calgary to sort donated clothes after the 2013 floods. It led to a full-blown astronomy project, supported by Tushar and the IEEE, and to the creation of the Astronomy Teacher Training Institute with educator Bruce Rout, for which Tushar was named an ASTech Award finalist in 2017.
Rout now works full time on a telescope-building project at Siksika, promoting the use of astronomy to teach science and the humanities at Siksika Nation High School. Building on Blackfoot people's history of studying astronomy that extends back tens of thousands of years, Rout is working with junior high and high school students there to build a 10-foot computer-controlled telescope with a 24-inch mirror in a building with a roll-off roof.
"Tushar is one of those people who looks at how to get things done," Rout says. "One time, he was out to work on the radio science project, and there must have been 120 kids around him, and he's demonstrating numerous scientific experiments. He's an amazing, outstanding man."
Deeply affected by the digital divide and the disparity in Internet access he has witnessed first-hand on First Nations reserves, Tushar reached out to a Bruce Buffalo after seeing a highly compelling video on YouTube about Buffalo's work installing free WiFi on a reserve.
As Tushar noted, "IEEE were looking to get involved in another project benefiting First Nations. We worked together and donated money and, in turn, bought some equipment for Bruce's project."
Led by Buffalo, the IEEE Special Interest Group on Humanitarian Technology (SIGHT) team involved, which includes Tushar, David Garrett and Anis Ben Arfi, are now planning to spin off a not-for-profit organization Mamawapowin (Cree for the act of coming together) with a goal of bridging the digital divide in rural Alberta.
A Killam scholar, Tushar researched the design of high-efficiency bandwidth power amplifiers for next generation (5G) wireless radio transmitters. His work earned him multiple awards and scholarships and he was published in several top-tier journals. The list of awards and scholarships that Tushar accumulated during his PhD work is nothing short of impressive: 
Alberta Science and Technology (AsTech) Leaders of Tomorrow

Izaak Walton Killam Pre-Doctoral Scholarship

IEEE Education Activity Board Pre-University Educator award

NXP Semiconductors Research and Development Scholarship

Alberta Transformative Talent Scholarship

MTTS/APS SIGHT Humanitarian Technology Award

IEEE Young Professionals Hall of Fame Award

IEEE Southern Alberta Leadership Award

Education Outreach Award in Radio Science by NASA, Stanford Solar Center and United Nations

Make a Difference Award 2017, University of Calgary

Alberta Innovates Technology Futures Scholarship

House of Commons, Student Leadership Award

IEEE Southern Alberta Leadership Award

IEEE Young Professionals Achievement Award

Alberta Graduate Citizenship Award

Research Productivity Award, University of Calgary

Academic Excellence Award, University of Calgary

Best Canadian Young Professionals Award
Tushar's work also drew attention from industry, resulting in a Transformative Talent Internship with NXP semiconductors in Arizona while still working on his PhD. At NXP, he worked on a team delivering a state-of-the-art project to improve transistor efficiency.
Since graduating, Tushar has continued to show that there are no limits to where his capabilities and career will take him, and he has now started a postdoctoral fellow position at Princeton University in NJ, USA.
2018
Rachael L'Orsa, MSc (Eng) '16