Environment and Sustainability Alumni Award
Exceptional contributions that promote and enhance sustainability and environmentally friendly practices in the engineering profession
Accomplishments serve as an example to the engineering community
Serve as an inspiration to engineering and the Schulich School of Engineering community
2019 Environment and Sustainability Alumni Award recipient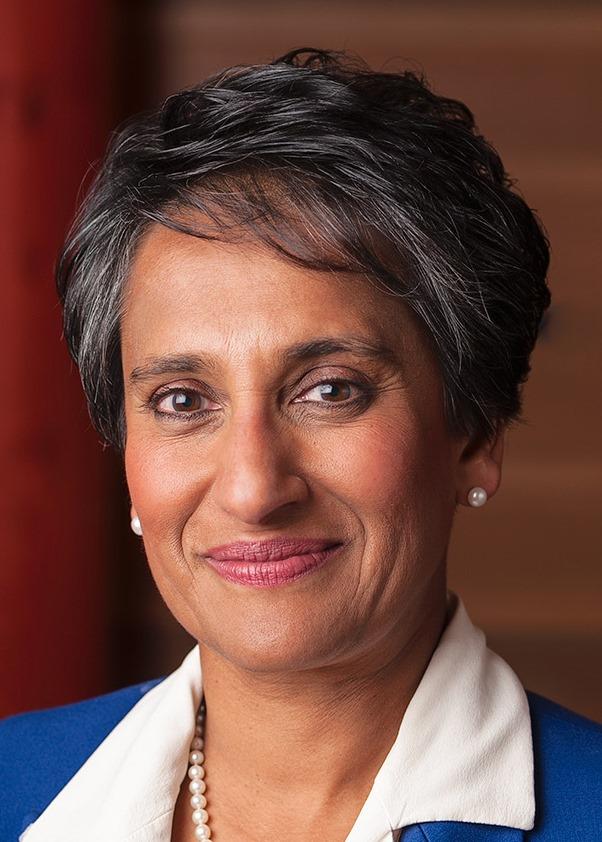 Audrey Mascarenhas

, MEng '88
Audrey Mascarenhas has worked in the energy industry for over 35 years with Gulf Canada Resources Ltd. and Questor Technology Inc. She is a fellow of the Canadian Academy of Engineers and a member of the Schulich Industry Advisory Council (SIAC) of the Schulich School of Engineering. Audrey served as a distinguished lecturer with the Society of Petroleum Engineers in 2010/2011.
After completing her undergraduate and post-graduate chemical engineering education in Toronto and Calgary, Audrey began her engineering career in Calgary. She started with Gulf Canada Resources and had the opportunity to work from A to Z in oil and gas. In 1991, she had a stint in Russia in corporate development, negotiating one of the first oil and gas joint ventures. In 1999, she decided to retire and try and be a stay-at-home mum. In September, she questioned what she had done and decided to come back to work but with a focus on giving back. Like most entrepreneurs, she recognized the opportunity to solve the flare and vented gas problem. In 1999, she joined Questor Technology Inc. Questor was bringing clean waste gas combustion technology to North America. At that time, the company was a struggling start-up enterprise. At that time, many in the petroleum industry were still not paying serious attention to air quality and pollution control, and were were denying climate change. Audrey had the vision to use her engineering background to advance the development of the company's technology. Because of her passion for the environment, she soon realized that the work Questor was doing was important.
Audrey is currently the President and CEO of Questor Technology Inc., now a leading international clean technology company with patented efficient waste gas combustion technology. Questor also designs integrated solutions to utilize waste heat to generate power and produce pure water from waste water streams. The technologies being developed at Questor, under Audrey's leadership, are having a strong impact on the bottom line of the petroleum industry while still protecting the environment. Questor is providing solutions around the world that address climate change, air quality, social license and clean energy - all in a practical cost-effective way.
Audrey's team has focused on two technologies. The first, Questor's own clean methane combustion technology, destroys harmful pollutants and eliminates waste from flaring and venting in oil and gas production. At the same time, it could reduce the world's greenhouse gas (GHG) emissions by 23 per cent at a cost of less than $3 per ton and significantly improve air quality. The second, which the company acquired and adapted, can generate power from the waste heat that the first technology produces. If fully deployed in Alberta, Questor estimates its solution could reduce GHG emissions by  megatons per year, at a cost of $1.70 per ton and conserve 690 million standard cubic feet per day of gas currently being wasted.
In 2011, Audrey was the recipient of the Ernst & Young Entrepreneur of the Year Prairies Award for Cleantech and Environmental Services and Values-Based Innovation. She was chosen by Business in Calgary as a 2014 Leader of Tomorrow, was a 2014 Board Diversity 50 cohort and one of Canada's 2017 Clean50. Audrey is a fellow of the Energy Futures Lab. She also co-chairs the Governor General's Innovation Awards assessment committee. Under Audrey's leadership, Questor was recognized by the Cleantech Innovation Exchange as one of the Top 10 Most Innovative Cleantech Canadian Companies.
In 2017, Audrey was appointed Chair of the Federal Government's Clean Technology Economic Strategy Table, which identifies competitive advantages, investment attraction opportunities and obstacles to growth. It is proposing a strategic action plan be developed to drive long-term and sustainable economic growth as well as create high-quality jobs for Canadians.
Quotes attributed to Audrey that support her nomination for the 2018 Environment and Sustainability Alumni Award from the Schulich School of Engineering:
"Several of our country's global competitors have invested to capture the growing global clean technology opportunity. Canada has an emerging clean-technology industry. It's imperative that we create the policy framework needed to establish Canada as a leader in the world in providing environmentally and economically sustainable products and services."
"Canada's clean technology industry contains the seeds of our future prosperity. We must take action now to win the markets of the future."
2018
Jackie Forrest, BSc (Eng) '96