Recent graduate
Amy Zell, BSc (Eng)'16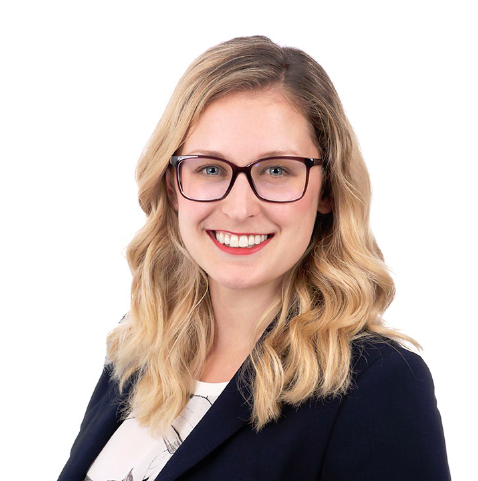 BSc Mechanical Engineering
Schulich School of Engineering
University of Calgary
Where is she now?
Manager, Carbon Solutions at Blue Source Canada ULC
Engineer in Training, Association of Professional Engineers and Geoscientists of Alberta
Schulich alumna Amy Zell believes in sustainable leadership
Not long after graduating from UCalgary's Schulich School of Engineering, Amy Zell found herself working in a remote construction camp northeast of Fort St. John in Northern British Columbia. For five months, as a project engineer-in-training on a pipeline project for TransCanada, she was the only engineer on site. "I was the engineering liaison coordinating between the construction challenges and the engineers back in the Calgary office. For example, if we needed to change the path of our drills, I would talk to the mechanical engineers," she says.
The field experience has given Zell a "neat new" perspective on engineering. "It was very interesting and challenging – in a good way. I got to see all the little challenges that the engineers don't see from the office."
This first-hand understanding of field work is helping Zell make decisions in her current job in Calgary, as manager of carbon solutions at Blue Source Canada ULC. The Alberta-founded boutique firm helps businesses, governments and NGOs reduce, manage and track greenhouse gas emissions.
"Oil and gas is critically important and pipelines are very important for the industry, the province and the country, but we also need to be developing it sustainably. I firmly believe that," says Zell. "And that's one of the core values at Blue Source, so I'm definitely on-board with my company's values."
Zell grew up in the Vancouver suburb of Delta, B.C. She applied to five universities and chose the University of Calgary because she earned a community service scholarship, the Seymour Schulich Scholarship. At UCalgary, she was involved extensively in community service. was a volunteer student leader, and served as president of the Engineering Students' Society (ESS).
"I say I got an unofficial minor in leadership, not in manufacturing or anything formally offered," says Zell. "My big emphasis when I was in school was on leadership and community service. My focus was on building communications and interpersonal skills as much as the schoolwork."
Maintaining and expanding on the friendships and networking relationships she built as a student were key to helping Zell find her way to her current job, which she heard about through a woman she met at a Young Women in Energy event.
"I went into engineering because I wanted to combine technical skills with management consulting and that leadership aspect," Zell says. "My experience with ESS helped a lot. In my job now, I am able to evaluate organizations and processes, look at how we can improve things, and then actually follow through and implement change."
I went into engineering because I wanted to combine technical skills with management consulting and that leadership aspect.
How did UCalgary's Schulich School of Engineering prepare you to be an engineer?
I came in to school wanting to do any kind of engineering except mechanical because my uncle did that and I thought it sounded really boring, even though I didn't really have a good sense of what he did. First year and second year were pretty eye-opening. You actually dive into mechanical engineering and you get more of a taste of what it means to be a real mechanical engineer – and that's what I decided I wanted to do.
What were your Schulich School of Engineering highlights?
I'm a people person. I love people and so I really got that through the Engineering Students' Society (ESS), Engineers Without Borders and the various other groups I was a part of. By the time I was president of ESS in my fifth year, I was committing around 40 hours a week to volunteering through ESS.
Who were your UCalgary mentors?
Arindom Sen, PhD, professor and associate dean of student professional development at the Schulich School of Engineering. "He's awesome. He was a great support and mentor through the Engineering Students' Society.
What is your advice for new engineering students?
I've passed this advice on so many times. Get involved, join a student leadership group, go to conferences. Take advantage of every opportunity that you can at school to get engaged. Being a part of a student society was really important to my professional development.
What is your life beyond engineering?
I originally intended to go back to Vancouver once I graduated, but I came to Calgary and loved it here. I just bought a house and am going to stay here. I hike. I cook. I play squash. It's an awesome city and I'm very happy I came.
What does it mean to you to be an engineer? 
In engineering school you are taught a lot of math. But, at the end of the day, you're actually taught how to solve problems and how to look at problems in different ways. An engineer is someone who doesn't give up on problems; engineers dive into problems and they support companies. Engineering is leadership in technical work through problem solving.