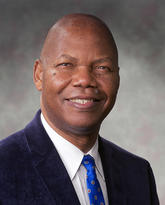 Abraham Fapojuwo
Professor
Department of Electrical and Software Engineering
Associate Head (Graduate Studies)
Department of Electrical and Software Engineering
BEng (1st Class Honors)
University of Nigeria, 1980
MSc
University of Calgary, 1986
PhD
University of Calgary, 1989
Contact information
Location
Information and Communications Technology Building :
ICT 310
Office hours
Tuesday & Wednesday: 4pm until 5:30pm, or by appointment
Preferred method of communication
Please contact me by email.
Research
Research areas
Wireless Communications and Networking
Research activities
Advanced Wireless Communication Networks
Broadband capacity enhancement techniques--cell-less fog-enabled radio access networks, heterogeneous cloud radio access networks, cognitive radio networks; backhaul optimization; software defined networking; network function virtualization; full-duplex techniques.
IoT Networking
Medium access control protocols for long range wide area networks; coverage and capacity analysis and performance optimization; interference avoidance and mitigation.
Wi-Fi Networking
QoE assurance techniques; mobility management; coverage and capacity analysis; Wi-Fi positioning/localization.
Vehicular Networking
Resource management protocols for ultra-reliable and low-latency V2X communications; vehicular localization techniques.
Simultaneous Wireless Information and Power Transfer RF-to-DC power conversion efficiency enhancement techniques; harvested energy and achievable data rate tradeoffs, cross-layer protocol design for SWIPT, wireless powered body sensor networks.
Biography
Dr. Abraham Fapojuwo is a professor and associate head (graduate studies) in the Department of Electrical and Computer Engineering.
Dr. Fapojuwo's expertise and experience are in the areas of wireless communications and telecommunication networks including the design, performance modeling, and analysis of network architectures and protocols.
Prior to joining the University of Calgary, Dr. Fapojuwo has engaged in full-time industry practice where he has made significant contributions in the industrial design, research and development of wireless cellular and networking products
Publications
Kwan J., and Fapojuwo, A.O., "Sum-throughput maximization in wireless sensor networks with radio frequency energy harvesting and backscatter communication," Sensors Journal, IEEE, 2018.
Ahmed, I.K. and Fapojuwo, A.O., "Stackelberg equilibria of an anti-jamming game in cooperative cognitive radio networks," Cognitive Communications and Networking, IEEE Transactions on, 2018.

Ashrafuzzaman, K., and Fapojuwo, A.O., "Efficient and agile carrier sense multiple access in capillary machine-to-machine communication networks," Access, IEEE, 2018.
Hemachandra, K., and Fapojuwo, A.O., "Average rate analysis for the full-duplex MISO interference channel," Communications Letters, IEEE, 2016.
Rao, J., and Fapojuwo, A.O., "An analytical framework for evaluating spectrum/energy efficiency of heterogeneous cellular networks," Vehicular Technology, IEEE Transactions on, 2016.
Awards
Outstanding Teaching Performance Award, SSE, 2018, 2016, 2013

Best Paper Award, IEEE WCNC, 2014,

Graduate Educator Award, ECE, 2011

Best Paper Award, IEEE PIMRC, 2009
Communications Premium Award, IET, 2008