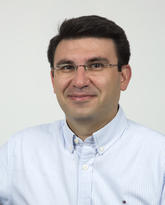 Ahmad Ghasemloonia
Assistant Dean, Academic Programs and Students
Schulich School of Engineering
Senior Instructor
Department of Mechanical and Manufacturing Engineering
Post-doctoral Scholar
Project neuroArm
Post-doctoral Fellow
Subsurface Imaging Technology
PhD - Mechanical Engineering
Memorial University, 2013
MSc - Mechanical Engineering
Tarbiat Modares University 2006
BSc - Mechanical Engineering
University of Tabriz, 2003
Contact information
Location
Mechanical Engineering Building :
MEB421
Office hours
Open-door policy
Research and teaching
Research areas
Structural vibrations
Vibration condition monitoring
Dynamic finite element analysis
Teaching, learning and pedagogy
Research activities
Dr. Ghasemloonia's research skills are structural vibrations, vibration condition monitoring and fault diagnostics, dynamic finite element analysis and dynamic simulations. Between 2002 and 2009, he conducted experimental research on the condition monitoring and fault diagnosis of rotating machinery and combustion engines.
His PhD research area was analytical and finite element structural vibration modeling of drilling structures in. In his PhD research, he developed models to design drillstring geometry, shock absorbers and vibrating tools to minimize harmful vibrations and maximize component life in drilling. His post-doctoral research with subsurface imaging technology was in the area of FEM analysis of visco-elastic creep behavior of salt caverns to provide key design guidelines for excavating salt cavern in western Newfoundland. At Project neuroArm, he worked on the design and development of ENT surgical robotic tools, vibration analysis of cancer tissue with atomic force microscopy and vibration simulation of surgical drills.
Biography
Dr. Ahmad Ghasemloonia received his BSc in Mechanical Engineering from the University of Tabriz in 2003 and his MSc in Applied Mechanics from Tarbiat Modares University in 2006 with a research focus on vibration condition monitoring and fault diagnosis. Between 2003 and 2009, he served as a Technical Engineer, Quality Control Engineer and Vibration Analysts at TSA, Pars Khazar, SAPCO and MAPNA Group.
Dr. Ghasemloonia received his PhD in Mechanical Engineering from Memorial University of Newfoundland, graduating with distinction in 2013 with a specialization in structural vibrations. Following the completion of his PhD, he had an Industrial Post-doctoral Fellowship at Subsurface Imaging Technology on the feasibility study of excavating salt caverns in Newfoundland.
In 2014, he joined Project neuroArm at the University of Calgary as a Post-doctoral Scholar, where he worked on biomedical engineering research projects (surgical tool design, cell vibration analysis, vibration simulation in surgical drills and surgical skill assessment using motion quality). He lectured as a sessional faculty member at Memorial University in 2013 and at the University of Calgary in 2015 and 2016 before joining the Department of Mechanical Engineering at the University of Calgary.
Currently, Dr. Ghasemloonia, who is a registered Professional Engineer (P.Eng.) in Alberta, teaches courses in the areas of dynamics and vibrations.
Awards
Students' Union Teaching Excellence Award (2016-2017, 2017-2018)
Professor of the Year - Mechanical Engineering (2018-2019, 2019-2020, 2020-2021)
Graduation Banquet Teaching Excellence Award (2019-2020, 2020-2021)
Schulich School of Engineering Teaching Excellence Award (2018)
Teaching Achievement Award (2017, 2018, 2019, 2020)
Schulich School of Engineering Outstanding Teaching Performance (2015)