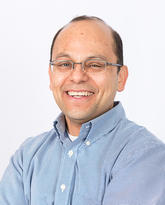 Alejandro Ramirez-Serrano
Professor
Department of Mechanical and Manufacturing Engineering
Founder & Director
UVS Robotarium Laboratory
Member
University of Calgary Aerospace Network (UCAN)
PhD - Mechanical and Industrial Engineering
University of Toronto, 2002
MSc - Computer Science
Monterrey Insitute of Technology, 1996
MSc - Mechanical & Aerospace Engineering
Illinois Institute of Technology, 1995
BSc - Mechanical Engineering
Universidad Autonoma Metroplitana, 1994
Contact information
Location
Mechanical Engineering Building :
MEB523
Office hours
Monday - 9 am until 10:30 am
Tuesday and Thursday - 1 pm until 4 pm
Preferred method of communication
Please contact me by email
Research
Research areas
Unmanned vehicle systems
Mobile robotics
Humanoid robotics
Control and navigation
Research activities
Unmanned vehicle systems
Development, and testing of diverse methodologies such as Artificial Intelligent (e.g., autonomous agents) and formal techniques (e.g., adaptive control) applicable to unmanned (aerial, ground, underwater as well as humanoid) vehicles.
Control and navigation
Our research laboratory also studies, develops, and tests diverse control methodologies such as Artificial Intelligent (e.g., autonomous agents) and formal techniques (e.g., adaptive & model predictive control) applicable to ground, aerial, and underwater autonomous vehicles. The laboratory investigates navigation, localization, cooperation, collaboration techniques, and mapping mechanisms applicable to mobile robots. The laboratory performs research activities that involve software, hardware design, human-robot integration, embedded and distributed systems.
Biography
Dr. A. Ramirez-Serrano is a full time professor at the University of Calgary, where he has served on diverse roles including a former director of the graduate program and current founder and director of the UVS Robotarium Research Laboratory. Dr. Ramirez-Serrano performs research and development activities in the area of unmanned vehicle (ground as well as aerial) systems (UVS).
Dr. Ramirez-Serrano is also the founder and CEO of 4Front Robotics, a Calgary based robotic company that develops highly maneuverable drones and custom field unmanned vehicles for deployment in highly confined spaces such as collapsed building.
His industrial experience include mechatronic engineer at ABB Corporate Research (Sweden), and research engineer at Argonne National Laboratory - West (USA) where he developed smart field robotic devices.
His areas of expertise are in the design of VTOL (Vertical Takeoff and Landing) and transitional aircrafts, control, navigation, and modeling of UVS and robots for deployment in confined spaces. His work also includes the development of humanoid robotics with applications to pediatric care where Dr. Ramirez-Serrano has employed robots to significantly reduce children stress, increase children's hospital experience, and reduce the time nurses and doctors take to apply a given procedure in some cases by more than 50 per cent.
Publications
Kamal A., and Ramirez-Serrano A., "Sizing Methodology for Tiltrotor Aircraft using Integrated Performance Constraints", Journal of Aircraft, May, 2018
Wilson G., Ramirez-Serrano A., and Sun Q., "Geometric Based Tire Vertical Force Estimation and Stiffness Parameterization for Automotive and Unmanned Vehicle Applications", Journal of Vehicle System
Beran, T.N., and Ramirez-Serrano, A., "Child Meets Robot: Applications of Humanoid Robotics in a Physiotherapy Environment with Young Patients", Physiotherapy Canada, special edition use of technology for pain, 2012
Yayari M.R., Gupta K.G., Mehrandezh M., and Ramirez-Serrano A., "Optimal Real-Time Trajectory Control of a Pitch-Hover UAV with a Two Link Manipulator", Conf. on Unmanned Aircraft Systems, June 12-15, 2018
Awards
ASTech Award, 2014
Indra's International Community Award: From Idea to Reality, 2015
UAE Drones for Good award competition, 2016
Schulich School of Engineering Achievement Award, 2017