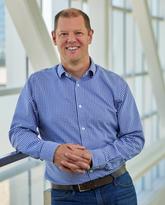 Andy Knight
Department Head
Department of Electrical and Software Engineering
Professor
Department of Electrical and Software Engineering
Transmission Electric Industry Chair
Schulich Research
Contact information
Location
Information and Communications Technology Building :
ICT 454
Research
Research activities
Dr. Andy Knight's research group key areas of interest are: sustainable electrical energy systems, focusing on the integration of renewable energy into electric grids through systems analysis and experimental validation, and; electromechanical energy conversion, including electrical machines, drives and associated power electronics.
Biography
Dr. Knight currently serves as the Transmission Electric Industry Chair at the Schulich School of Engineering. He is a Professional Engineer registered in the province of Alberta, and Senior Member of the IEEE. He serves on the R&D Committee of IEEE Smart Grid and the Executive Board of IEEE IAS. Dr. Knight is also spearheading a collaborative research initiative called Calgary Electric Power and Energy Systems (CaPES).
Publications
Selected publications
1. J.A. Baroudi, V. Dinavahi, A.M. Knight "A review of power converter topologies for wind generators". Renewable Energy 32:14, 2007, pp 2369-2385
2. A.M. Knight, G.E. Peters, "Simple wind energy controller for an expanded operating range" IEEE Trans Energy Conversion, 20:2, 2005, pp 459-466
3. S. Leng, R.U. Haque, N. Perera, J. Salmon, A. Knight "Soft start and voltage control of grid connected induction motors using floating capacitor H-bridge converters " IEEE ECCE 2014