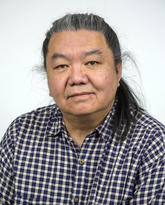 Angus Chu
Professor
Department of Civil Engineering
PhD
University of British Columbia, 1995
MSc
University of British Columbia, 1991
BSc
University of British Columbia, 1989
Research
Research areas
Energy engineering
Engineering for the environment
Energy and environmental impacts
Environmental remediation - water
Research activities
Optimization of wastewater treatment technologies
Optimization study of full scale fermenters located at the Bonnybrook biological nutrient removal (BNR) wastewater treatment facility operated by the city of Calgary. This plant has full scale fermenters to produce the necessary carbon substrates to achieve reliable BNR through their process. The research objective is to optimize the production of these carbon substrates from their fermenter process.
Development of a molecular assay for the detection and enumeration of disease causing organisms in drinking water
This research program is a result of collaborative efforts from both the Departments of Microbiology and Civil Engineering (Engineering for the Environment). Traditional techniques for detecting disease in water are to enumerate indicator organisms. These techniques are growth associated and equipment intensive. The departments of Microbiology and Civil Engineering are currently developing a molecular assay for the identification and enumeration of disease causing organisms in environmental samples.
Toxicity of contaminated flare pit soils
The existence of flare pits in Alberta is of the undesirable byproducts of oil and gas production. In Alberta's oil patch, flare pits have been used to store and/or burn produced fluids at older oil and gas well sites. Since produced fluids may contain liquid hydrocarbons, process chemicals, crude bitumen or salt water, they invariably contain contaminated sludge and soils. Most of these pits are unlined excavations and can pose a significant risk to the environment and subsequently human health. As of December 31, 1996 produced fluids are not allowed to be discharged to earthen pits in Alberta. Remediation and decommissioning of thousands of flare pits in Alberta pose a serious challenge for the oil and gas industry. There is an estimated 10,000 such flare pit sites in Alberta alone.
Characterization of cold climate petroleum degrading microorganisms
The use of microorganisms in the cleanup of contaminated sites displays significant promise for application due to its versatility and cost effectiveness. Bioventing is a specific bioremediation technique that involves the delivery of gaseous or liquid oxygen to the soil subsurface via injection wells to stimulate biodegradation. It is the purpose of this study to characterize and identify the microbial populations occurring in situ bioventing applications.
Biography
Dr. Angus Chu is an assistant professor in the Engineering for the Environment Program at the University of Calgary. His teaching responsibilities currently include two graduate level and two undergraduate level courses. His Ph.D. thesis developed a biochemical model describing substrate metabolism in Autothermal Thermophilic Aerobic Digestion. His dissertation not only provided a greater understanding of the process but has laid the foundations for the development of a novel system known as the microaerobic process.
Before accepting the faculty position at the University of Calgary, he was employed as a process specialist with NovaTec Consultants Inc. (a local B.C. Environmental Engineering consulting company) in their Environmental Research and Development Division. Within this company he had developed a research program concerned with the potential commercialization of the microaerobic process, a concept that was developed during the completion of his Ph.D. thesis. His research interests encompass a wide range of topics.
Publications
View ResearchGate profile

Selected publications
Bethune, D. N., Chu, A., & Ryan, M. C. (2014). Passive evaporation of source-separated urine from dry toilets: a lab study.
Khan, U. T., Valeo, C., Chu, A., & He, J. (2013). A Data Driven Approach to Bioretention Cell Performance: Prediction and Design. Water, 5(1), 13-28.
Motz, E. C., Cey, E., Ryan, M. C., & Chu, A. (2012). Vadose zone microbial transport below at-grade distribution of wastewater effluent. Water, Air, & Soil Pollution, 223(2), 771-785.
He, J., Valeo, C., Chu, A., & Neumann, N. F. (2011). Prediction of event-based stormwater runoff quantity and quality by ANNs developed using PMI-based input selection. Journal of hydrology, 400(1), 10-23.
Gilroyed, B. H., Li, C., Hao, X., Chu, A., & McAllister, T. A. (2010). Biohydrogen production from specified risk materials co-digested with cattle manure. International Journal of Hydrogen Energy, 35(3), 1099-1105.
Chu, A., D.S. Mavinic (1998). The Effects of Macromolecular Substrates and a Metabolic Inhibitor on Volatile Fatty Acid Metabolism in Thermophilic Aerobic Digestion. Water Science and Technology 38, 55-61.
Chu, A., D.S. Mavinic, H.G. Kelly and C. Guarnashelli (1997). The Influence of Aeration and Solids Retention Time on Volatile Fatty Acid Accumulation in Thermophilic Aerobic Digestion of Sludge. Environmental Technology 18, 731-738.
Awards
2005 - Faculty Graduate Education Award
1996 - Petro Canada Young Innovator Award