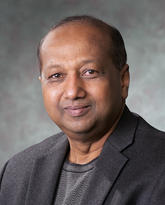 Anis Haque
Teaching Professor
Department of Electrical and Software Engineering
BSc (Applied Physics & Electronics)
Rajshahi University
MSc (Applied Physics & Electronics)
Rajshahi University
MSc (Computer Science)
University of Cambridge
PhD (Materials Science)
Japan Advanced Institute of Science and Technology
Research
Research activities
Dr. Haque's research is focused in the areas of ferromagnetic computing (nano-magetoelectronics), renewable energy, and engineering education.
Biography
Dr. Anis Haque has more than 20 years of university teaching experience in science and engineering. He joined the Department of Electrical and Computer Engineering at the University of Calgary in 2007. He is currently a Teaching Professor. His excellence in teaching has been recognized through multiple teaching awards.
As part of his professional services to the community, Dr. Haque became involved with IEEE's educational outreach Teacher In-Service Program (TISP) in Canada and served as Chair for two years. He also led the TISP's Southern Alberta team for several years. To further his passion, he founded a not-for-profit organization, Association for the Advancement of Science and Engineering Education (AASEE). Through this registered charity, he focuses particularly on rural communities, First Nations peoples and girls across the province of Alberta and beyond. He has reached more than 7,500 elementary, junior and high school students directly in their classrooms by donating thousands of hours in last seven years. He has created leadership and community engagement opportunities for over 50 graduate and undergraduate Schulich students.
Dr. Haque is a Director on the Board of Minerva Canada, a not-for-profit organization promoting health and safety education for engineering and business students at universities across Canada. He has developed teaching materials in engineering safety for other engineering schools to use. His valuable contributions in advancing health and safety education for engineering students have been recognized through Minerva Educational Award of Honour. Dr. Haque was also a member of the Board of Examiners of the Association of Professional Engineers and Geophysicists of Alberta (APEGA).
Dr. Haque holds BSc (Hons) and MSc degrees in Applied Physics and Electronics from the University of Rajshahi. He received a MSc in Computer Science from the University of Cambridge and a PhD in Materials Science (Nanotechnology) from the Japan Advanced Institute of Science and Technology (JAIST). He was mentioned in Who's Who in Science and Engineering.
Awards
Engineering Students' Society Teaching Excellence Award 2017
Engineering Students' Society Teaching Excellence Award 2015
Minerva Education Award of Honour 2014
Schulich School of Engineering Teaching Excellence Award for Common Core 2014
Engineering Students' Society Teaching Excellence Award 2013
Engineering Students' Society Teaching Excellence Award 2011