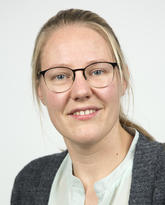 Anne Benneker
Assistant Professor
Department of Chemical and Petroleum Engineering
PhD, Chemical Engineering
University of Twente, the Netherlands
MSc, Chemical Process Engineering
University of Twente, the Netherlands
BSc, Chemical Engineering
University of Twente, the Netherlands
Preferred method of communication
E-mail
Research and teaching
Research areas
Transport at interfaces
Water purification
Electrokinetics
Enhanced transport
Microfluidics
Activities
Enhanced transport

Transport phenomena are important for many different applications, such as water desalination, chemical reactions and separations. Enhancement of transport phenomena is important for the energy efficiency and intensification of these processes. The work involves the manipulation of fluid and species transport using gradients in electrical potential, temperature and solute concentration. Application of electrohydrodynamic phenomena such as electroosmosis and electrokinetic instabilities for transport enhancement are the main research interest, while these can be aided by temperature and concentration gradients.
Microfluidics
For fundamental understanding of transport phenomena at interfaces, experimental microfluidic investigations are conducted on model systems and compared to numerical models of the system. Using the knowledge gained on the small scale, pilot-scale implementation of transport enhancing techniques is investigated. Potential applications are in the fields of oil recovery, reactor engineering and produced water treatment.
Biography
Dr. Benneker holds BSc, MSc and PhD degrees in chemical engineering from the University of Twente, Enschede, The Netherlands. She completed her PhD in April 2018. Since 2016, she also served as a lecturer in the Sustainable Process Technology Group at the University of Twente, where she taught courses in the Chemical and Process engineering undergraduate programs, specifically on Heat & Mass Transfer and Process Design. Her areas of specialization include Transport phenomena (charge transport in fluids, electro-osmotic and electrokinetic flows, microfluidics, heat and mass transport), Electrodialysis, and Chemical process design (process analysis, process intensification, process modeling, plant design).
Awards
Selected publications
Benneker, A. M., Gumuscu, B., Derckx, E. G., Lammertink, R. G., Eijkel, J. C., & Wood, J. A. (2018). Enhanced ion transport using geometrically structured charge selective interfaces. Lab on a Chip, 18(11), 1652-1660.
Benneker, A. M., Rijnaarts, T., Lammertink, R. G., & Wood, J. A. (2018). Effect of temperature gradients in (reverse) electrodialysis in the Ohmic regime. Journal of membrane science, 548, 421-428.
Gumuscu, B., Haase, A. S., Benneker, A. M., Hempenius, M. A., van den Berg, A., Lammertink, R. G., & Eijkel, J. C. (2016). Desalination by Electrodialysis Using a Stack of Patterned Ion‐Selective Hydrogels on a Microfluidic Device. Advanced functional materials, 26(47), 8685-8693.
Wood, J. A., Benneker, A. M., & Lammertink, R. G. (2016). Temperature effects on the electrohydrodynamic and electrokinetic behaviour of ion-selective nanochannels. Journal of physics: Condensed matter, 28(11), 114002.