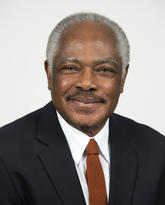 Ayodeji Jeje
Professor
Department of Chemical and Petroleum Engineering
PhD
Massachusetts Institute of Technology, 1974
SM
MIT, Cambridge 1970
BSc
Purdue University, 1969
Contact information
Location
Calgary Centre for Innovative Technology :
CCIT 316
Research
Research areas
Hydrodynamic instability
Suspension flows
Interfacial phenomena
Physiological flows
Modelling and numerical simulation
Research activities
Dr. Jeje's principal research areas are heat/mass transfer, interfacial phenomena and fluid mechanics. Fundamental principles are being applied, using analytic and numerical tools, to industrial problems, modelling of physical phenomena and investigating the relationship between form and function in physiological (mammalian and plant) systems.
Industrial problems
The emphasis has been on problems involving spontaneous and forced displacement of fluids in the presence of thermal and concentration gradients, and phase transformations - melting and boiling. Applications have included the operation of large, commercial liquid storage tanks and caverns, melting of sulphur mounds in contact-melting operations; and direct-contact heat transfer between fluids such as cryogenic liquids on warm water and steam injection into subcooled liquids or suspensions. The systems are inherently dynamically unstable. Free surfaces are also present. Other problems include the formation of bubbles at submerged orifices in contacting devices; dissolution of carbon dioxide in hydrocarbon liquids at high pressures; and measurement of interfacial properties using laser light-scatter spectroscopy.
Modelling studies
The patterns of motion and temperature distribution in liquids stored in large cylindrical tanks (that are potentially subject to vapor explosion) are being explored. The flow of fluids through pipes that are internally corrugated and the dynamics of pulsed laminar and turbulent jets in water are being investigated through experimentation and analysis. It has been observed that flow resistance may be reduced through modification of the micro-structures on surfaces over which a fluid flows. The potential value of the work includes the evaluation of risks and safety bounds in industrial settings, and energy savings in pumping valuable products such as hydrocarbon fluids over long distances. Work is also being done on filtration of blood components prior to transfusion.
Physiological systems
The areas of research are of three types - the flow of blood through the mammalian circulatory system, particularly through the aortic valves, kidneys and the capillary network; the ascent of sap through the xylem of living plants in the swelling anisotropic porous media; and thermal regulation of the mammalian body. The effort is interdisciplinary and it involved not only a consideration of the mechanical forces but also the electrical fields and the structural forms.
Awards
2006
ESS Teaching Excellence Award
Students' Union Teaching Excellence Award
2011
Lecture of a Lifetime: Energizing Engineering Leadership