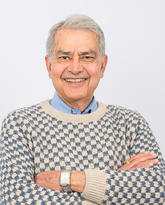 Brij Maini
Professor
Department of Chemical and Petroleum Engineering
CNOOC North America Industrial Research Chair
Advanced In-Situ Recovery Processes for Oil Sands
PhD
University of Washington, 1976
BTech
Indian Institute of Technology, 1969
Courses
Dr. Maini teaches undergraduate and graduate level courses in enhanced oil recovery.
Preferred method of communication
At this time, Dr. Maini is not accepting new graduate students.
Research
Activities
Dr. Maini is a specialist in heavy oil reservoir engineering with research interests in improved heavy oil recovery methods and multiphase flow in porous media.
His research interests cover a wide range of thermal and non-thermal processes for heavy oil recovery:
Improved heavy oil recovery
Additives for steam assisted gravity drainage
Vapex
Foamy oil flow
Multiphase flow in fractures
Biography
Dr. Brij Maini obtained a bachelor of Technology from the Indian Institute of Technology in Kanpur, India and a PhD in chemical engineering from the University of Washington in Seattle. He moved to Calgary in June, 1976 to work as a research associate in the Department of Chemical Engineering at the University of Calgary. In 1979, he joined the Petroleum Recovery Institute (PRI). At PRI, he rose through the ranks quickly and became the Group Leader for Heavy Oil Recovery in 1985. After working more than 20 years at PRI, he moved back to the University of Calgary in 1999 as Associate Professor in the Department of Chemical and Petroleum Engineering and became Professor in 2001.
He teaches undergraduate and graduate courses in enhanced oil recovery and supervises several graduate students. Over the 20 years that he has been on faculty, he has supervised or co-supervised 34 PhD students and 80 master's students. His research interests cover a wide range of thermal and non-thermal processes for heavy oil recovery: cold production with foamy oil flow, solvent vapor injection process, steam assisted gravity drainage and additives for steam injection processes.
He is considered a leading expert in experimental evaluation of improved oil recovery processes, especially for heavy oil. He has published 100 peer-reviewed journal papers and more than 150 conference papers and technical reports. In recognition of his contributions to the literature on oil recovery research, the Society of Petroleum Engineers (SPE) recognized him as an Improved Oil Recovery Pioneer in 2012. He also won the Schulich School of Engineering's Research Excellence Award. In 2015, he won the Innovation in Oil Sands Research Award from the ASTech Foundation.
He is a registered professional engineer in Alberta and a member of SPE.
Publications
Selected publications
Richardson, W.D.L., Schoeggl, F.F., Taylor, S.D., Maini, B. and Yarranton, H.W.: Diffusivity of Gas Into Bitumen: Part I – Analysis of Pressure-Decay Data with Swelling, SPE Journal (2019, May1), doi:10.2118/195574-PA
Laura M. Corredor, Ehsan Aliabadian, Maen M. Husein , Zhangxin. Chen, Brij B. Maini and Uttandaraman Sundararaj, Heavy Oil Recovery by Surface Modified Silica Nanoparticle/HPAM Nanofluids, Fuel (Accepted April 2019), DOI: 10.1016/j.fuel.2019.04.145
Lin Meng, Nasser Sabet, Brij Maini, Mingzhe Dong, Hassan Hassanzadeh: Estimation of Diffusion Coefficient of Gases in Liquids from Swelling Data - An Analytical Model for Including the Effects of Advection and Density Change, Fuel, (Accepted April 2019) https://doi.org/10.1016/j.fuel.2019.04.099
Esmaeili, S., Sarma, H., Harding, T., Maini, B. (Feb, 2019) Correlations for effect of temperature on oil/water relative permeability in clastic reservoirs, Fuel, 246, 93-103. [DOI: 10.1016/j.fuel.2019.02.109
Laura M. Corredor-Rojas†, Maen M. Husein , and Brij B. Maini: "Effect of Hydrophobic and Hydrophilic Metal Oxide Nanoparticles on the Performance of Xanthan Gum Solutions for Heavy Oil Recovery" Nanomaterials 2019, 9(1), 94; https://doi.org/10.3390/nano9010094
Esmaeili, S., Sarma, H., Harding, T., Maini, B. (Sep 2018) Review of the effect of temperature on oil-water relative permeability in porous rocks of oil reservoirs. Fuel, 237, pp. 91-11 [DOI: 10.1016/j.fuel.2018.09.100
Esmaeili, S., Sarma, H., Harding, T., Maini, B. (Aug 2018) A data-driven model for predicting the effect of temperature on oil-water relative permeability. Fuel, 236, pp. 264-27 [DOI: 10.1016/j.fuel.2018.08.109]
Hao Liu, L. Cheng, K. Wu, S. Huang, B. Maini: "Assessment of energy efficiency and solvent retention inside steam chamber of steam and steam-assisted gravity drainage process," Applied Energy 226 (2018) 287-299