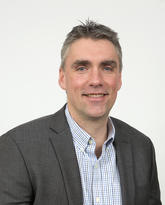 Craig Johansen
Professor
Department of Mechanical and Manufacturing Engineering
SSE Research Chair
in Aerospace Engineering
PhD - Mechanical Engineering
Queen's University, 2009
MBA - Business
Heriot-Watt University, 2006
MASc - Aerospace Engineering
Carleton University, 2005
BSc - Mechanical Engineering
Queen's University, 2003
Contact information
Location
Mechanical Engineering Building :
MEB408
Office hours
Open-door policy
Preferred method of communication
Email
Research and teaching
Research areas
Intelligent and autonomous systems - Aerospace
Aerodynamics
Propulsion
Flight
UAVs
Laser diagnostics
Computational fluid dynamics
Activities
Research
Dr. Johansen's research focuses on areas that involve fluid mechanics, thermodynamics, heat transfer and gas dynamics. The work is motivated to solve problems in high-speed aerodynamics, propulsion, power generation, and explosion safety. His research lab includes several shock tubes with non-intrusive optical diagnostics and a computer cluster for computational fluid dynamics.
Teaching
Dr. Johansen teaches related courses in gas dynamics, thermodynamics and heat transfer.
Biography
Dr. Johansen completed his PhD at Queen's University in 2009 on the study of explosions and pulse detonation engine technology. He later worked at the NASA Langley Research Center on high-speed aerodynamics and propulsion using laser diagnostics. In 2011, he joined the University of Calgary to create the Aero-Core Group, which includes three laboratories on CFD, non-intrusive diagnostics and propulsion. Dr. Johansen enjoys undertaking challenging aerospace projects that inspire young engineers. He is part of the University of Calgary Aerospace Network (UCAN).
Publications
Google Scholar profile
ResearchGate profile
View my list of publications on my research group website
Select publications
Hinman, W.S., and Johansen, C. (2018) "Mechanisms in the hypersonic laminar near wake of a blunt body," Journal of Fluid Mechanics, Vol. 839, pp. 33-75 DOI 10.1017/jfm.2017.902
Dunn, C., Gustafson, G., Edwards, J., Dunbrack, T., and Johansen, C. (2018) "Spatially and temporally resolved regression rate measurements for the combustion of paraffin wax for hybrid rocket motor applications," Aerospace Science and Technology, Vol. 72, pp. 371-379 DOI 10.1016/j.ast.2017.11.024
Hinman, W., Johansen, C., and Rodi, P. (2017) "Optimization and analysis of hypersonic leading edge geometries," Aerospace Science and Technology, Vol. 70, pp. 549-558 DOI 10.1016/j.ast.2017.08.034
Trivedi, M., Jaganathan, R., and Johansen, C. (2016) "Convective heat transfer enhancement with nanoaerosols," Vol. 102, pp. 1180-1189, International Journal of Heat and Mass Transfer, 10.1016/j.ijheatmasstransfer.2016.07.017
Johansen, C.T., Lincoln. D, Bathel, B., Inman, J., and Danehy, P., (2016) "Simultaneous nitric oxide / atomic oxygen laser-induced fluorescence in an arc jet facility," Thermophysics and Heat Transfer, DOI 10.2514/1.T4691
McRae, C.D., Johansen, C.T., Danehy, P.M., Gallo, E., Cantu, L., Magnotti, G., Cutler, A., Rockwell, R.D., Goyne, C.P., and McDaniel, J.C., (2015) "Image analysis of hydroxyl-radical planar laser-induced fluorescence in turbulent supersonic combustion", Propulsion and Power, Vol. 32, No. 3, pp. 542-559, DOI 10.2514/1.B35611
Awards
2018: Killam Emerging Research Leader Award
2018: SSE Achievement Awards (Teaching & Research)
2017: FGS Great Supervisor Award
2016: SSE Teaching Achievement Award
2015: SSE Graduate Educator Award