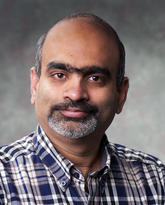 Diwakar Krishnamurthy
Associate Professor
Department of Electrical and Software Engineering
Contact information
Location
Information and Communications Technology Building :
ICT 535
Research
Research activities
Dr. Krishnamurthy's research interests are in the general area of performance evaluation of software systems. Specific topics that he is currently interested in include the following:
Measuring, modeling, optimizing, and managing the performance of enterprise applications
Performance evaluation of cloud, big data, and Internet of Things (IOT) systems
Software performance engineering
Biography
Dr. Diwakar Krishnamurthy received a BEng in electrical and electronics engineering from the Thiagarajar College of Engineering, Madurai, India in 1995 and MEng and PhD degrees in electrical engineering from Carleton University, Ottawa, Canada in 1998 and 2004, respectively. He joined the Department of Electrical and Computer Engineering at the University of Calgary as an assistant professor in June 2004.
Awards
2018 FGS GREAT Supervisor Award

2012-2013 Professor of the Year, Engineering Students' Society

2002 CMG Graduate Fellowship Award