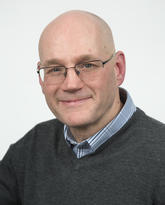 Edward Roberts
Professor
Department of Chemical and Petroleum Engineering
Associate Head (Research)
Department of Chemical and Petroleum Engineering
PhD
Cambridge University, 1992
MEng
Cambridge University, 1988
BA
Cambridge University, 1987
Contact information
Location
Calgary Centre for Innovative Technology :
CCIT 212
Research
Research areas
Energy engineering
Energy conversion, storage and distribution
Batteries
Electricity management
Fuel cells/electrolysis cells
Sustainable energy
Environmental impacts and remediation - water
Activities
The Roberts research group is focusing on using environmentally friendly electrochemical techniques for simultaneous removal of various contaminants including suspended solids, emulsified oil, dissolved organics, silica and heavy metals from oil sands produced water. Dr. Roberts has developed an innovative process combining adsorption and electrochemical regeneration for the removal and oxidation of organic contaminants from wastewater. A key area of research in this area is the intensification of electrochemical water treatment processes. The Roberts research group has developed a novel cell design for electrocoagulation (EC) which enhances the transport conditions and reduces power requirements. The mechanisms of contaminant removal by EC is being studied through the use of laser scanning confocal microscopy. The application of EC to the treatment of oil-sands produced water is being explored in collaboration with several industry partners.
In addition to water treatment, Dr. Roberts' research group is exploring the use of new large scale energy storage technologies. Electrode materials for redox flow batteries are being developed in collaboration with Dr. Birss (chemistry), while novel metal-organic redox systems are being explored with Dr. Roesler (chemistry). They are aiming to develop low cost flow battery systems that are able to operate efficiently at high current densities, improving the economic viability of the technology. These systems are being developed for large scale energy storage and the integration of renewable electricity generation. He is also collaborating with Dr. Thangadurai (chemistry) and Dr. Trifkovic on the development of solid state lithium ion batteries for transport applications.
Biography
Dr. Roberts is an internationally recognized expert in electrochemical engineering. Since moving to the University of Calgary in November 2012 from the University of Manchester (UK), he has established his research group on Sustainable Electrochemical Technology, focusing on environmental and energy applications. While at the University of Manchester he led a successful research group, graduating more than 50 PhD and MSc students. He has published 66 peer reviewed journal articles and holds 20 granted patents. Dr. Roberts founded a successful spin-off company in the UK that is marketing an innovative technology for nuclear waste and industrial wastewater treatment that was developed in his laboratory. His research has been recognized through several awards, including a European Academic Enterprise (ACES) Award (2009), IET Innovation Award (2009) and the IChemE Water Innovation Award (2008).
Publications
Selected publications:
Yazdi A.Z., Roberts E.P.L., and Sundararaj, U (2016) "Nitrogen/sulfur co-doped helical graphene nanoribbons for efficient oxygen reduction in alkaline and acidic electrolytes", Carbon 100, 99-108
Hussain S.N., Asghar H.M.A., Sattar H., NW Brown N.W., and Roberts E.P.L. (2015) "Free chlorine formation during electrochemical regeneration of a graphite intercalation compound adsorbent used for wastewater treatment", Journal of Applied Electrochemistry 45 (6), 611-621
Hussain S.N., de las Heras N., Asghar H.M.A., NW Brown N.W., and Roberts E.P.L. (2014) "Disinfection of water by adsorption combined with electrochemical treatment", Water research 54, 170-178
Brown, N.W., and Roberts, E.P. (2013) "Combining adsorption with anodic oxidation as an innovative technique for removal and destruction of organics," Water Science and Technology, vol. 86, issue 6, pp. 1216-1222.
Scamman, D.P., Reade, G.W., and Roberts, E.P.L. (2009) "Numerical modelling of a bromide–polysulphide redox flow battery". Journal of Power Sources, vol. 189, issue 2, pp. 1220-1230.