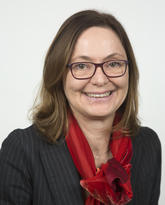 Elena Di Martino
Professor
Department of Civil Engineering
Postdoctoral Fellowship
University of Pittsburgh
PhD
University of Milano
MSc
Politecnico of Milano
BSc
Politecnico of Milano
Preferred method of communication
Please contact me by email
Research
Research areas
Biosystems
Biomedical engineering
Tissue mechanics
Biomedical imaging
Regenerative medicine
Activities
Vascular diagnostic imaging
Aortic aneurysms are the end result of a multi-factorial process that culminates in an irreversible loss of structural integrity of the aortic wall with consequent wall weakening. Clinicians have expressed strong interest in information that will help them determine the actual structural integrity of the vessel wall and quantify the degree of wall weakening. Surgical guidelines need to move beyond aneurysm size and incorporate functional and structural risk factors, including regional estimates of the tissue mechanical properties and strength. We propose strain measurements as a mean to non-invasively estimate local wall properties.
In-situ functional microscopy of biological tissues
With funds from the Canada Foundation from Innovation we developed a new instrument that combines the capabilities of a micro-biaxial testing device with a confocal upright microscope and represents a considerable step forward in accuracy and flexibility in the field of in-situ functional microscopy.
Biomechanics of soft tissues
We study the mechanical and micro-structural properties of a variety of biological tissues: thoracic and abdominal aorta, skin grafts, left atrium tissues, intestine tissues. These studies inform the development of multi-physics numerical models applied to different organs and tissues, including atrium, intestine, and aortic aneurysms.
Biography
Dr. Di Martino graduated with a combined BSc-MSc degree from Politecnico of Milano and received her PhD from the Univeristy of Milano, Italy. She held post-doctoral and research scientist positions at the University of Pittsburgh and Carnegie Mellon University, respectively, before joining the University of Calgary in 2007.
Publications
View my research on PubMed
Awards
Samuel and Emma Winters Foundation Biomedical Research Award, 2002
Perkins Prize for bext paper in Medical Engineering and Physics, 2002
Peak Scholar in Entrepreneurship, Innovation, and Knowledge Engagement, University of Calgary, 2017