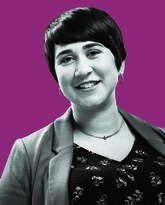 Emily Marasco
Instructor
Department of Electrical and Software Engineering
PhD
University of Calgary, 2018
MSc (Eng)
University of Calgary, 2013
BSc (Eng)
University of Calgary, 2011
Contact information
Location
Information and Communications Technology Building :
ICT 309
Research and teaching
Research areas
Creativity and innovation in engineering
Gamification and learner-generated game-based learning
Entrepreneurial frameworks for engineering
Adaptive learning methodologies
Novel pedagogies in software engineering
Biography
Dr. Emily Marasco received her PhD in electrical engineering from the University of Calgary, focusing on the integration of innovation techniques for design and education in electrical, computer, and software engineering. Her current research and teaching interests are in the area of learning engineering, including the use of machine learning, gamification, blended learning, and augmented reality as tools for enhancing creativity within software and computer engineering. Dr. Marasco's research-informed pedagogical practice integrates cross-disciplinary, entrepreneurial aspects with cognitive diversity and creative technical experiences.
Dr. Marasco is active as a science communicator and outreach speaker in the local education community. She has been recognized as the 2018 ASTech Outstanding Leader of Tomorrow and received the 2016 Claudette MacKay-Lassonde Graduate Award for women in engineering. She was most recently recognized as one of Calgary's 2019 Top 40 Under 40 recipients.
Publications
K. Bauer, L. Behjat, J. Brown, M. Gavrilova, J. Hayley, E. Marasco. (2020). First Wave, Second Wave, Third Wave: Women in Science, Technology, Engineering and Mathematics in Women Negotiating Life in the Academy – A Canadian Perspective. S. E. Eaton, A. Burns, Eds. Springer, 2020, ch. 17.
W. Gatti Jr., E. Marasco, B. Kim, L. Behjat. (2020). Supporting design thinking through a game-based pedagogy in entrepreneurship education. Papers on Postsecondary Learning and Teaching.
M. Moussavi, Y. Amannejad, M. Moshirpour, E. Marasco, L. Behjat. (2020). Importance of Data Analytics for Improving Teaching and Learning Methods in Data Management and Analysis: Case Studies in Education, Healthcare and Beyond.
R. Alhajj, M. Moshirpour, B. Far, Eds. Springer, 2020, ch. 6.
E. Marasco, L. Behjat, R. Kelly, S. Maguire. (2019). Creative crossroads: Combining engineering and arts for creative development. Papers on Postsecondary Learning and Teaching.
E. Marasco, W. Gatti Jr., B. Kim, L. Behjat, M. Eggermont. (2017). Curious conversations: Using game-based learning to develop creative culture within technical courses. Papers on Postsecondary Learning and Teaching.
Awards
2019
Avenue Magazine
2019
Top 40 Under 40
2018
ASTech Foundation Outstanding Leader of Tomorrow Award
Schulich School of Engineering Teaching Achievement Award
2017
ASTech Foundation Excellence in Science & Technology Public Awareness Award