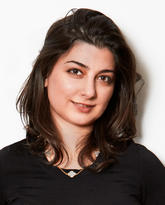 Farnaz Sadeghpour
Associate Professor
Department of Civil Engineering
PhD
Concordia University, 2004
MSc
Tehran Azad University, Iran, 1998
Contact information
Location
CNRL Engineering Complex :
EN335
Research and teaching
Research activities
One of Dr. Sadeghpour's research projects is "Cycling Infrastructure for Cities in Cold Climates." Cycling is currently receiving a large amount of attention in North America as a means of improving sustainability and reducing GHG emissions in urban areas. The underlying question for this research is that the investment in cycling infrastructure in cold climates is still a matter of debate.
Dr. Sadeghpour is currently working to develop a model that can predict the return on investment in cycling facilities based on the usage of these facilities in such environments. The model can also be used to conduct cost benefit analyses for the construction of cycling infrastructure in different communities, and inform budget and investment decisions.
Biography
Dr. Sadeghpour is an Associate Professor in the Department of Civil Engineering at the University of Calgary. Her area of expertise is construction engineering and management. In Dr. Sadeghpour's academic role, she contributes teaching, research and other services to the civil engineering profession, community at large and the University of Calgary. Dr. Sadeghpour is a member the Canadian Society for Civil Engineering (CSCE) Calgary Section and chairs the CSCE Construction Division.