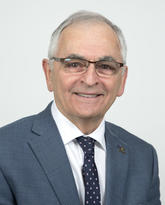 George Jergeas
Professor
Department of Civil Engineering
PhD
Loughborough University of Technology, 1989
MSc
Loughborough University of Technology, 1982
BSc
University Baghdad, 1975
Courses
Dr. Jergeas teaches in the area of project management with focus on contractual, team and collaborative related issues. Also focus on the strategic level for senior managers and executives.
Research
Activities
Dr. Jergeas' research and teaching interests and activities include:
Cost overruns on mega capital projects
Value Improving Practices such as Constructability, Value Engineering and Benchmarking
Project teambuilding, alignment and partnering
Contractual arrangements, payment structures, risk allocation on construction projects
Contracting and legal issues affecting engineering and construction
Productivity studies and improvement
Contract Administration on construction projects
Construction claims and disputes avoidance, preparation, evaluation and resolution
Biography
Dr. George Jergeas joined the university as a full-time academic coming from industry in 1994. His career in industry was in the construction of international infra-structure projects. During his employment with Revay and Associates, he investigated over 30 construction projects, both in Canada and the USA, experiencing cost overrun and delay.
Dr. Jergeas' experience in industry and subsequent research has demonstrated a strong interest in improving the efficiency of construction projects. Dr. Jergeas' expertise includes construction claims and disputes, delay analysis, alternative dispute resolution, risk allocation and management, project controls and contract administration.
Cross appointments and affiliations:
Director, Centre of Project Management Excellence
Collaboration with The Norwegian University of Science and Technology, Trondheim
Publications
Selected publications
Co-authored a book entitled "Risk Navigation Strategies for Major Capital Projects: Beyond the Myth of Predictability". Published by Springers in 2011. Also, published over 100 journal and conference articles in project management.
Zadeh, M.T., Dehghan, R., Ruwanpura, J.Y., and Jergeas, G. (2016) "An index to assess project management competencies in managing design changes," International Journal of Construction Engineering and Management, vol. 5, issue 1, pp. 11-24.
Moazzami, M., Dehghan, R., Jergeas, G.F., and Ruwanpura, J.Y. (2015) "A theoretical framework to enhance the conversion process in convertible contracts," International Journal of Construction Engineering and Management, vol. 4, issue 6, pp. 248-262.
Ikpe, E., Kumar, J., and Jergeas, G. (2015) "Benchmarking characteristics of steam assisted gravity drainage (SAGD) projects: based on interview findings," Business and Management Horizons, vol. 3, no. 2.