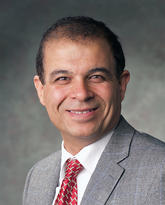 Hamidreza Zareipour
Professor
Department of Electrical and Software Engineering
BSc
K.N. Toosi University of Technology, 1995
MSc
University of Tabriz, 1997
PhD
University of Waterloo, 2006
Contact information
Location
Information and Communications Technology Building :
ICT 444
Preferred method of communication
Please contact me by email.
Research
Research activities
My research focuses on the operation, planning and economics of electric energy systems in a competitive electricity market environment. In particular, I am interested in:
Integration of large-scale energy storage into electricity markets
Integration of large-scale wind/solar power into electricity markets
Predictive analytics and forecasting for electric energy systems
Data mining/big data applications in electricity markets
Smart energy management systems for residential and commercial sectors
Applied optimization under uncertainty
Awards
View my teaching and research awards.