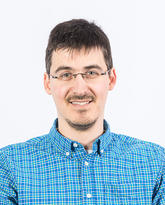 Ivan Detchev
Senior Instructor
Department of Geomatics Engineering
Associate Head Undergraduate
Department of Geomatics Engineering
PhD, Geomatics Engineering
University of Calgary (2016)
MSc, Geomatics Engineering
University of Calgary (2010)
BScE (First Division), Geodesy and Geomatics Engineering
University of New Brunswick (2007)
Courses
Currently Dr. Detchev is assigned courses within the Department of Geomatics Engineering.
Research and teaching
Research activities
Dr. Detchev's graduate school research experience was primarily in digital photogrammetry/optical metrology related to biomedical and civil engineering. As an instructor he will be gradually transitioning towards research in teaching and learning methods in engineering, i.e., engineering pedagogy. For example, Dr. Detchev is now a co-chair of the ISPRS WG V/5 "Promotion of the profession to young people" within TC V "Education and outreach".
Graduate Program Affiliations:
Advising undergraduate or master's students or collaborating with visiting scholars could be a possibility after getting an approval from the department. However, as an instructor, Dr. Detchev currently cannot provide any funding.
Biography
Dr. Ivan Detchev received his BScE (First Division) in geomatics engineering from the University of New Brunswick in 2007, and his MSc and PhD in digital imaging system from the University of Calgary in 2010 and 2016, respectively. His MSc thesis was on the 3D reconstruction of scoliotic torsos, and prototypes of the implemented system are currently being used in the Alberta Children's Hospital (Calgary) and in the IWK Health Centre (Halifax). His PhD dissertation was in close range photogrammetry and it was related to image-based fine-scale infrastructure monitoring. Dr. Detchey also has industry experience in surveying and remote sensing. His previous employers include G. R. Williams Land Surveying Ltd. (Vancouver, BC) and Pacific Geomatics Ltd. (Surrey, BC).
Publications
Selected Publications:
Detchev, I., A. Habib, D. Lichti, and M. El-Badry (2016). "Structural 3D Monitoring Using a New Sinusoidal Fitting Adjustment." XXIII ISPRS Congress, Prague, Czech Republic, July 12-19
Detchev, I., U. Kanjir, S. R. Reyes, H. Miyazaki, and A. F. Aktas (2016). "Latest developments of the ISPRS Student Consortium." XXIII ISPRS Congress, Prague, Czech Republic, July 12-19
Habib, A., I. Detchev, and E. Kwak (2014). "Stability Analysis for a Multi-Camera Photogrammetric System." Sensors, Vol. 14, No. 8, pp. 15084-15112
Detchev, I., A. Habib, F. He, and M. El-Badry (2014). "Deformation Monitoring with Off-the-shelf Digital Cameras for Civil Engineering Fatigue Testing." ISPRS Commission V Mid-term Symposium, Riva del Garda, Italy, June 23-25
Detchev, I., A. Habib, and M. El-Badry (2013). "Dynamic beam deformation measurements with off-the-shelf digital cameras." Journal of Applied Geodesy, Vol. 7, No. 3, pp.147-157
Awards
Selected Awards:
2015 – SSE Teaching Assistant Excellence Award
2010-2014 – AITF Graduate Student Scholarship
2014 – ASPRS Z/I Imaging Scholarship
2011-2013 – NSERC Alexander Graham Bell (CGS-D2)