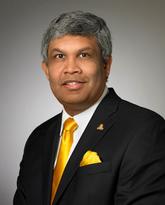 Janaka Ruwanpura
Professor
Department of Civil Engineering
Vice-Provost and Associate Vice-President Research (International)
University of Calgary
PhD - Construction Engineering and Management
University of Alberta, 2001
MSc - Construction Management
Arizona State University, 1997
BSc (Honours) - Quantity Surveying
University of Moratuwa, 1992
Biography
Janaka Ruwanpura is the Vice-Provost - International (VPI) at the University of Calgary. He was a full professor and Canada Research Chair (CRC) in Project Management Systems (2007-13) in the Schulich School of Engineering before he became the VPI. He is the Founding Director of the Centre for Project Management Excellence and has been the Director of Project Management since 2005.
Dr. Ruwanpura, a former US Fulbright scholar, has developed many best practices and tools that have been successfully implemented in the construction industry for productivity improvement, project management, project planning, construction management and risk management. He has published over 180 technical papers in refereed journals and conference proceedings.
During his six years as VPI, he has brought new initiatives to the University. This includes developing and implementing collaborative degree models for undergraduate and graduate levels, offering customized training and capacity building programs, co-developing Global Research Initiatives and Sites in China and Mexico and raising funding for research and infrastructure (over $57 Million), establishing and promoting new research opportunities and partnerships in number of countries, promoting and developing new funding models for opportunities for students' international experience and securing and lobbying for international development grants (over $22 Million). Under his leadership, University of Calgary was recognized with a "Comprehensive Internationalization" award from The Canadian Bureau for International Education and an Institutional Award for "for Global Learning, Research & Engagement" from The Association of Public and Land Grant Universities.
He is a licensed professional engineer (P.Eng.) in Alberta and a professional quantity surveyor (PQS) in Canada. He is also a Professional/Chartered Member of the Royal Institution of Chartered Surveyors, UK (MRICS) and a fellow of the Canadian Society for Civil Engineering (FCSCE).
Publications
Maalek, R., Lichti, D.D., and Ruwanpura, J. (2018) "Robust Segmentation of Planar and Linear Features of Terrestrial Laser Scanner Point Clouds Acquired from Construction Sites" Sensors, 18(3):819, 10.3390/s18030819
Walawe Durage, S., Wiraisnghe, S.C., and Ruwanpura, J.Y. (2017)" Tornado mitigation network analysis and simulation", International Journal of Disaster Resilience in the Built Environment, DOI: 10.1108/IJDRBE-10-2014-0072
Almohsen A., Ruwanpura J. (2016). Establishing Success Measurements of Joint Ventures in Mega Projects. Journal of Management in Engineering. 32(6): 04016018
Yeheyis M, Reza B, Hewage, K., Ruwanpura J, Sadiq R. (2016). Evaluating Motivation of Construction Workers: A Comparison of Fuzzy Rule Based Model with the Traditional Expectancy Theory. Journal of Civil Engineering and Management. 22(7): 862-873
Zadeh M., Dehghan, R., Ruwanpura, J, Jergeas, G. (2016). An Index to Assess Project Management
Competencies in Managing Design Changes. International Journal of Construction Engineering and Management. 5(1): 117-133
Walawe Durage, S., Wiraisnghe, S.C., and Ruwanpura, J.Y. (2016)"Decision Analysis for Tornado Warning and Evacuation in the Canadian Prairies" Natural Hazards, 17(1),
Dehghan, R. , Hazini, K., and Ruwanpura, J. (2015) "Optimization of overlapping activities in the design phase of construction projects" Journal of Automation in Construction, 59, 81-95
Moazzami, M., Dehghan, R., Jergeas, G.F. and Ruwanpura, J.Y. (2015) A Theoretical Framework to Enhance the Conversion Process in Convertible Contracts, International Journal of Construction Engineering and Management 2015, 4(6): 248-262
Walawe Durage, S., Wiraisnghe, S.C., Ruwanpura, J.Y., Kattan, L and Mashall, S. (2015) "Canadian Prairie Tornadoes - Preplanning for Warning Issuance & Initiation of Protective Measures", International Journal of Disaster Risk Reduction, 14(4), 556-563, Elsevier.
Taghi Zadeh, M., Dehghan, R., Ruwanpura, J. Y., and Jergeas, G. (2014). "Factors Influencing Design Changes in Oil and Gas Projects" International Journal of Construction Engineering and Management, 3(4): 117-133, Scientific & Academic Publishing.
Ruwanpura, J.Y., Lueke, J.S., Towstego, R., Wolf, H. and Hewage, K.N. (2014) "An Analytical Application of AHP Decision Analysis Tool for in Construction Methodology Selection for a Water Transmission Main River Crossing" Journal of Pipeline Systems - Engineering and Practice, ASCE, ISSN 1949-1190/05014001(9)
Hazini, K., Dehghan, R. and Ruwanpura, J. (2014) "An Evolutionary Optimization Method to Determine Optimum Degree of Activity Accelerating and Overlapping in Schedule Compression", Canadian Journal of Civil Engineering, 41(4): 333-342
Walawe Durage, S., Wirasinghe, S.C., Kattan, L. and Ruwanpura, J.Y. (2014) "Evacuation Behaviour of Households and Drivers during a Tornado - Analysis Based on a Stated Preference Survey in Calgary, Canada" Journal of Natural Hazards, Springer, 71(3), 1495-1517
Dehghan, R. and Ruwanpura, J. Y. (2014) "A Model of the Trade-off between Overlapping and Rework of Design Activities" Journal of Construction Engineering and Management, ASCE, 140(2), CID: 04013043
Hazini, K., Dehghan, R. and Ruwanpura, J. (2013) "A heuristic method to determine optimum degree of activity accelerating and overlapping in schedule compression" Canadian Journal of Civil Engineering, 40(4), 382-391
Walawe Durage, S., Wirasinghe, S.C. and Ruwanpura, J.Y. (2013) "Comparison of the Canadian and U.S. Tornado Warning and Detection System" Journal of Natural Hazards, Springer, 66(1), 117-137
Ranaweera, K., Ruwanpura, J.Y. and Fernando, S. (2013) "Automated Real-Time Monitoring System to Measure Shift Production of Tunnel Construction Projects" Journal of Computing in Civil Engineering, 27(1), 68–77. Publication 2, 2012, Publication 3, 2007, Publication 4, 2003