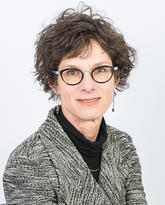 Janet Lenore Ronsky
Professor
Department of Mechanical and Manufacturing Engineering
AITF Tier I Strategic Chair
PhD
University of Calgary, 1994
BASc
University of Waterloo, 1983
Contact information
Location
Mechanical Engineering Building :
MEB512
Courses
Dr. Ronsky has taught the following courses:
Engineering Dynamics (ENGG 349)
Technology and Society (ENGG 481)
Biomechanics of Joints (ENME 523/519.17)
Practice of the Engineering Profession (ENGG 513)
Applications of Rigid Body Mechanics in Biomechanics (ENME 683/619.72)
New Frontiers in Biomedical Engineering (ENME 619.81/619.82)
Applications of Non-Invasive Imaging Techniques in Biomechanics (ENME 619.98)
Preferred method of communication
Please contact me via email directly if interested in learning more about our research opportunities
Research
Research areas
Joint biomechanics
Medical image processing and analysis
Movement analysis
Biomaterials
Machine learning
Numerical simulation and modeling
Technology development
Research activities
Dr. Ronsky's overall research program objectives focus on:
Development of integrated imaging technologies to quantify joint health variables
Understanding variation in joint mechanics associated with lower limb structure, dynamic function and neuromotor control
Development of monitoring, prediction and treatment interventions for scoliotic and rib deformities
Utilizing her research group's high accuracy dual fluoroscopy system and the Clinical Movement Assessment Laboratory, they are investigating post-traumatic osteoarthritis and developing novel mechanical markers for detection of early osteoarthritis risk. Dr. Ronsky's group works with numerous clinicians to investigate altered movement and neuromotor control patterns associated with musculoskeletal injuries, as well as treatment and rehabilitation protocols. Using the optical imaging system developed with the group, they are utilizing machine learning techniques to investigate novel non-invasive methods to detect and monitor scoliotic deformities in the spine. These studies are now being conducted at multiple clinical centres.
Our research group is focused on understanding relations among static and dynamic function and neuromotor control of the musculoskeletal system, as well as the role which alterations to bone and joint structures, mechanics and integrity associated with injury and aging play in joint health status.
This year, we have extended our studies of in-vivo joint dynamic function and structure to include neuromotor control aspects as well as subject specific segmental inertial properties and muscle strength (based on MR imaging). These studies have focused on identifying alterations in in-vivo joint mechanics, joint congruence and function associated with PFPS and anterior cruciate ligament (ACL) deficiency.
Additionally, studies investigating the role of ACL deficiency, reconstruction and bracing on dynamic stability and muscular coordination are in progress. Using helical axis approaches, we have successfully demonstrated differences in dynamic joint stability in ACL deficient subjects. In collaboration with Geomatics Engineering, we have identified image and surface registration model enhancements for MRI data, as well as new non-linear reconstruction algorithms based on bundle adjustment techniques that provide improved accuracy and computational efficiency for RSA. Our collaborative research evaluating relations between locomotion, postural control and eye gaze, as a function of joint health status and performance level have provided new insights into differences in movement control strategies utilized between trained "superperformers" and those with joint injuries.
Our scoliosis research study expanded to include monthly clinical data acquisitions, comparative evaluations of optical imaging system accuracies between research centres and further development of the scoliosis brace prototype. We developed new approaches to classification of scoliosis curvatures using artificial intelligence approaches, as well as new methods for predictions of scoliotic curvatures based on external torso measurements.
Biography
Dr. Janet Ronsky joined the University of Calgary in 1994 after being awarded an NSERC Women's Faculty Award. In 2004 she was awarded the Canadian Council of Professional Engineers Award for the Support of Women in the Engineering Profession; 2005 - the AWSN Minerva Mentoring Award for Women in Science and Innovation; 2005 - APEGA AIF Summit Award for Research Excellence; 2006 - APEGA AIF Summit Award for Excellence in Education. She was the director of the Centre for Bioengineering Research and Education from 2003 - 2009 and works closely with the Undergraduate Biomedical Engineering Specialization. She became a Fellow of the Canadian Academy of Engineering in 2009. She is currently the Director of Zymetirx - Biomaterials & Tissue Engineering Technology Development Centre. She holds an AITF iCORE Strategic Chair in Advanced Diagnostics and Devices. Dr. Ronsky is serving as the NSERC Group Chair of EG 1512 (Mechanical Engineering) from 2014-2017.
Publications
View my ResearchGate profile

Selected publications
Westover, L. M., Sinaei, N., C. Küpper ,J. & Ronsky, J. L. (2016): Quantifying in vivo laxity in the anterior cruciate ligament and individual knee joint structures, Computer Methods in Biomechanics and Biomedical Engineering, DOI: 10.1080/10255842.2016.1170122.
Kuntze, G. von Tscharner, V., Hutchison. C., Ronsky, J. Alterations in lower limb multi-muscle activation patterns during stair climbing in female total knee arthroplasty patients. Journal of Neurophysiology, 2015.
Sharma, GB, Kuntze, G., Kukulski, D, Ronsky, JL. Validating Dual Fluoroscopy System Capabilities for Determining In-Vivo Knee Joint Soft Tissue Deformation: A Strategy for Registration Error Management. Journal of Biomechanics. 48: 2181-2185, 2015.
Andrews, S.J., Rattner, J.B., Shrive, N.G., Ronsky, J.L. Swelling significantly affects the material properties of the menisci in compression. Journal of Biomechanics. 48: 1485-1489, 2015.
Lichti DD, Sharma GB, Kuntze G, Mund B, Beveridge, JE, Ronsky JL. Rigorous geometric self-calibrating bundle adjustment for a dual fluoroscopic imaging system. IEEE Transactions on Medical Imaging, 34:2, 589-598, 2015.