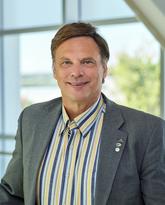 Jeff Pieper
Associate Dean, Continuing Professional Development
Schulich School of Engineering
Professor
Department of Mechanical and Manufacturing Engineering
Ph.D.
Queen's, 1992
M.S.
California, 1988
B.Sc.
Queen's, 1987
Contact information
Location
Mechanical Engineering Building :
MEB521
Preferred method of communication
Preferred communication is via email at pieper@ucalgary.ca
Research and teaching
Activities
Automation, Control & Robotics
Jeff Pieper has interests in the design and analysis of control systems and mechatronics. Other research areas include the analysis of dynamic systems and the development of design methodologies for mechatronic systems.
Current and recent research projects include:
Control of wind and water turbines. Alternative energy turbine systems are challenging control problems in that they involve time varying dynamics, inherent instabilities, differing control objective under various operating conditions and other difficulties. Applications of parameter varying and adaptive control using emerging techniques have proven useful. Issues surrounding measurement of the operating point, estimation of the power output of the turbine and other practicalities make the area one of great interest.
Helicopter flight controller design. In this line of research, a number of problems associated with control of helicopters is explored including hover and forward flight, slung loadings, flight under degraded visual cue environments and other aspects.
Mechatronic systems design. General limits of performance for electro-mechanical systems are studied with a view to optimized design and use of computer-based control. The economic trade-offs associated with the inclusion of computational elements is balanced by the improved behaviour.
Robust control design. The search for a control design methodology that can deal with uncertain nonlinear and multivariable systems is an ongoing research problem. Within this topic various strategies are developed and tested experimentally with a view to practical application.
Biography
Jeff Pieper is a member of the APEGA Discipline Committee, involved with deciding and enforcing malpractice decisions for Professional Engineers in Alberta.
Jeff Pieper has provided consulting services for a variety of Canadian companies over the past several years. These projects include dynamic systems analysis, control interfacing and design and along with full-package control systems design work for alternative energy turbines, vehicle steering systems, inertial navigation systems, and helicopter flight control systems.
Publications
A new robust weight update for cerebellar model articulation controller adaptive control with application to transcritical organic rankine cycles
J Samiuddin, B Badkoubeh, M Sadeghassadi, JK Pieper, CJB Macnab
Transactions of the Institute of Measurement and Control, 2018
Modelling and regulation of two mechanical systems
J de Jesús Rubio, J Pieper, JA Meda-Campaña, A Aguilar, VI Rangel,
IET Science, Measurement & Technology 12 (5), 657-665, 2018
Nonlinear adaptive control of a transcritical Organic Rankine Cycle
J Samiuddin, B Badkoubeh-Hezaveh, M Sadeghassadi, JK Pieper,
2017 IEEE 26th International Symposium on Industrial Electronics (ISIE), 513-519, 2017
Model predictive control of a heat recovery steam generator during cold start-up operation using piecewise linear models
P Sindareh-Esfahani, SS Tabatabaei, JK Pieper
Applied Thermal Engineering 119, 516-529, 2017
Gain-scheduled l1-optimal control of variable-speed-variable-pitch wind turbines
H Jafarnejadsani, J Pieper
IEEE Trans. Control Syst. Technol 23 (1), 372-379, 2015
Adaptive nonlinear robust control of a novel unconventional unmanned aerial vehicle
P Bagheri, A Ramirez-Serrano, JK Pieper
Control and Intelligent Systems 43 (1), 2015
Adaptive Control of a Variable-Speed Variable-Pitch Wind Turbine Using Radial-Basis Function Neural Network.
H Jafarnejadsani, JK Pieper, J Ehlers
IEEE Trans. Contr. Sys. Techn. 21 (6), 2264-2272, 2013
Awards
Fellow, Canadian Society of Mechanical Engineers
Member, Canadian Engineering Accreditation Board
Fellow, Engineers Canada