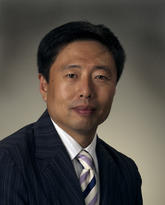 Jeong Woo Kim
Professor
Department of Geomatics Engineering
Ph.D.
The Ohio State University
Preferred method of communication
Email.
Research and teaching
Research areas
Geodynacmis Geophysics Geodesy
Biography
Dr. Kim is a Professor with the Department of Geomatics Engineering at University of Calgary, Canada. He received a Ph.D. degree from the Ohio State University. His professional experiences include Assistant and Associate Professors of Geoinformation Engineering in Sejong University, Research Associate at the Planetary Geodynamics Lab at NASA Goddard Space Flight Center and State University of New York. He holds three designaitons as a P.Geoph., P. Geol. and P. Eng. from the APEGA.
Awards
2005 - US National Research Council Senior Research Associateship Award
2005 - IEEE Geoscience and Remote Sensing Society Interactive Session Prize Paper Award
1995-96 - The Ohio State University Presidential Fellow