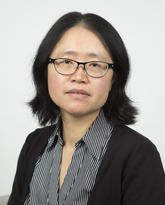 Jianxun (Jennifer) He
Associate Professor
Department of Civil Engineering
Associate Head of Undergraduate Studies
Department of Civil Engineering
PhD
University of Calgary
MSc
Kyoto University
BSc
Wuhan University
Courses
Fall
Hydraulics (ENCI 402)

Winter
Engineering Statics (ENGG 202)
Engineering Hydrology and Hydraulics (ENCI 619)
Preferred method of communication
Please contact me by email
Research
Research areas
Energy for the environment
Environment and climate change
Sustainable water management
Research activities
Urban stormwater management
Stormwater management (in both quantity and quality) has obtained significant impetus in the wake of increasing concerns over both our water resources and natural ecosystems. The objectives of stormwater management for urban settings are to reduce stormwater amount and improve stormwater quality to avoid the quality degradation in natural receiving water bodies. My research on this subject is more focusing on the Low Impact Development technologies (LIDs) including permeable pavements, green roofs, and bioretention systems. The research conducted in this area aims to understand their performance as well as to identify the challenges/or problems in their implementation and thus enhance their engineering design for better managing urban stormwater. I am also very interested in developing new approaches for water quality statistical analysis to identify the causes of water quality degradation for helping to formulate more effective water quality management strategies.
Climate change impact on water resources
Climate is changing and climate change will continue. Climate change affects all aspects of hydrological cycle and thus water resources management. My research interests in this area are to understand to what degree climate change affects water quantity and quality and in turn to help in adapting the changes in water resources. My current research focuses on this subject are to explore: (1) to what degree the magnitude and frequency of hydrological extreme events (including rainfall and flow) change; (2) how to deal with the non-stationary hydrological processes and time series, which are resulted from climate change as well as other changes, in hydrological modeling and analyses; (3) how to quantify/assess the inherent uncertainties, which are also critical for decision makers, from various sources in hydrological modeling and analyses; and (4) how to enhance the forecasting/projection of hydrological variables and associated uncertainties.
Biography
Dr. He joined the Department of Civil Engineering of the University of Calgary as an Assistant Professor in Water Resources Engineering in July, 2013. Prior to this position, she has been an Assistant Professor with Lakehead University, Ontario since September, 2011. Dr. He's research is in the field of water resources engineering particularly focusing on better understanding physical mechanisms through field monitoring and both physically-based and data-driven modeling.
Dr. He has particular interest in advancing the understanding of how to more efficiently manage water resources under both natural and anthropogenic stressors. Her research works have been funded by the Natural Science and Engineering Research Council of Canada (NSERC), Alberta Innovates, MITACS, and other provincial and municipal funding. Dr. He has won the Early Research Excellent Award from Schulich School of Engineering in 2016.
Besides being an academic researcher, Dr. He has also put great efforts in both undergraduate and graduate education. She has won several teaching wards. In addition, Dr. He also actively participates in various advisory committees to provide her expertise to the community.
Publications
Selected journal publications
Kasiviswanathan, K.S., He, J., Tay, J.-H., and Sudheer, K.P. 2018. Enhancement of model reliability by integrating prediction interval optimization into hydro-modeling. Water Resources Management. Doi:10.1007/s11269-018-2099-x
Akther, M., He, J., Chu, A., Valeo, C., Khan, U., and van Duin, B. 2018. Response of green roof performance to multiple hydrologic and design variables: A laboratory investigation. Water Science and Technology, 77(12), 2834-2840. Doi: 10.2166/wst.2018.275
Kasiviswanathan, K.S., He, J., and Tay, J.-H. 2017. Flood frequency analysis using multi-objective optimization based interval estimation approach. Journal of Hydrology, 545, 251-262.
He, J. 2016. Probabilistic evaluation of causal relationship between variables for water quality management. Journal of Environmental Informatics, 28(2), 110-119.
Huang, J., Valeo, C., He, J., and Chu, A. 2016. The influence of design parameters on stormwater pollutant removal in permeable pavements. Water, Air & Soil Pollution, 227(9), 1-17.
Kasiviswanathan, K.S., He, J., Sudheer, K.P., and Tay, J.-H. 2016. Potential application of wavelet neural network ensemble to forecast streamflow for flood management. Journal of Hydrology, 536, 161-173.
Huang, J., He, J., Valeo, C., and Chu, A. 2016. Temporal evolution modeling of hydraulic and water quality performance of permeable pavements. Journal of Hydrology, 533, 15-27.
He, J. 2013. Mixture model based multivariate statistical analysis of multiply censored environmental data. Advances in Water Resources, 59, 15-24.
He, J., Valeo, C., Chu, A., and Neumann, N.F. 2011. Prediction of event-based stormwater runoff quantity and quality by ANNs developed using PMI-based input selection. Journal of Hydrology, 400(1-2), 10-23.
He, J., Valeo, C., Chu, A., and Neumann, N. F. 2011. Stormwater quantity and quality response to climate change using artificial neural networks. Hydrological Processes, 25(8), 1298-1312.
Awards
Teaching Excellent Award, selected by third and fourth year students, Schulich School of Engineering, University of Calgary, 2018
Jorge Mature Remus Award (for researcher and professor), International Forum of Science and Engineering Students, 2018
Teaching Achievement Award, Schulich School of Engineering, University of Calgary, 2017-2018
Teaching Achievement Award, Schulich School of Engineering, University of Calgary, 2016-2017
Early Research Excellent Award, Schulich School of Engineering, University of Calgary, 2016
Outstanding Teaching Performance Award, Schulich School of Engineering, University of Calgary, 2015-2016
Outstanding Reviewer Recognition Award, ASCE's Journal of Hydrologic Engineering, 2013
Hoskin Inaugural Award, Best Student Poster in the 58th Canadian Water Resources Association Annual National Conference, Banff, Alberta, 2005