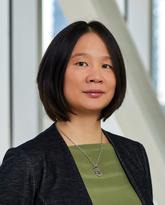 Joanna Wong
Assistant Professor
Department of Mechanical and Manufacturing Engineering
Dr.sc.ETH - Mechanical and Process Engineering
ETH Zurich, 2011
MSc - Microelectromechanical Systems Engineering
ESIEE Paris, 2007
MSc - Microelectromechanical Systems Engineering
Nanyang Technological University, 2007
BASc - Engineering Science - Nanoengineering
University of Toronto, 2005
Contact information
Location
Mechanical Engineering Building :
MEB220
Office hours
By appointment
Research
Research areas
Advanced materials and nanotechnology
Advanced manufacturing
Additive manufacturing
Advanced materials
Composite materials
Nanomaterials
Aerospace systems
Novel technologies
Materials engineering
Bio-inspired design
Materials
Biomimicry
Biologically sourced materials
Clean technology
Smart materials
Multifunctional materials
Nanomaterials and technologies
Biography
Joanna Wong has been an assistant professor in the Department of Mechanical and Manufacturing Engineering at the University of Calgary since July 2017. Previously, she has worked as a Senior Assistant at the ETH Zurich, as the Principal Scientist of a Boston-based start-up company, and as a Postdoctoral Researcher at the EMPA Dübendorf in Switzerland.
Her research focuses on developing materials and cost-effective processes for specific engineering applications. In the past, this has included fibre-reinforced thermoplastic composites for automotive applications, superhydrophobic and omniphonic coatings for water management, silica aerogels for building insulation, ferroelectrets for sensors and actuators, sputtering processes for semiconductor devices, and molecular storage devices. Currently, her research is on developing different manufacturing processes for fibre-reinforced thermoplastic composites such as additive manufacturing, pultrusion, filament winding, and stamp forming.
Publications
2018
Martin Eichenhofer, Joanna C.H. Wong, and Paolo Ermanni, Exploiting cyclic softening in continuous lattice fabrication for additive manufacturing of high performance fibre-reinforced thermoplastic composite material, Composites Science and Technology, 164: 248-259, 2018. DOI
Joanna C.H. Wong, Javier Molina Blanco, and Paolo Ermanni, Filament winding of aramid/PA6 commingled yarns with in situ consolidation
Journal of Thermoplastic Composite Materials, 31 (4): 465-482, 2018. DOI
2017
Christoph Schneeberger, Joanna C.H. Wong, Paolo Ermanni, Hybrid bicomponent fibres for thermoplastic composite preforms, Composites: Part A, 103: 69-73, 2017. DOI
Martin Eichenhofer, Joanna C.H. Wong, and Paolo Ermanni, Continuous lattice fabrication of ultra-lightweight composite structures, Additive Manufacturing, 18: 48-57, 2017. DOI
2015
Joanna C.H. Wong, Hicret Kaymak, Philippe Tingaut, Samuel Brunner, and Matthias M. Koebel, Mechanical and thermal properties of nanofibrillated cellulose reinforced silica aerogel composites, Microporous and Mesoporous Materials, 217: 150-158, 2015. DOI
2014
Joanna C.H. Wong, Hicret Kaymak, Samuel Brunner, and Matthias M. Koebel, Mechanical properties of monolithic silica aerogels made from polyethoxydisiloxanes, Microporous and Mesoporous Materials, 183: 23-29, 2014. DOI
2012
Joanna C.H. Wong, Elena Tervoort, Stephan Busato, Paolo Ermanni, and Ludwig J. Gaucker, Engineering macroporous composite materials using competitive adsorption in particle-stabilized foams, Journal of Colloid and Interface Science, 383 (1): 1-12, 2012. DOI
2011
Joanna C.H. Wong, Elena Tervoort, Stephan Busato, Ludwig J. Gaucker, and Paolo Ermanni, Controlling Phase Distributions in Macroporous Composite Materials through Particle-Stabilized Foams, Langmuir, 27 (7): 3254-3260, 2011. DOI
2010
Joanna C.H. Wong, Elena Tervoort, Stephan Busato, Urs T. Gonzenbach, André R. Studart, Paolo Ermanni, and Ludwig J. Gaucker, Designing macroporous polymers from particle-stabilized foams, Journal of Materials Chemistry, 20: 5628-5640, 2010. DOI
2009
Ilke Arkartuna, Elena Tervoort, Joanna C.H. Wong, André R. Studart, and Ludwig J. Gaucker, Macroporous polymers from particle-stabilized emulsions, Polymer, 50 (15): 3645-3651, 2009. DOI

Joanna C.H. Wong, Elena Tervoort, Stephan Busato, Urs T. Gonzenbach, André R. Studart, Paolo Ermanni, and Ludwig J. Gaucker, Macroporous polymers from particle-stabilized foams, Journal of Materials Chemistry, 19: 5129-5133, 2009. DOI
2007
Alexey A. Popov, Matthias Krause, Shangfeng Yang, Joanna C.H. Wong, and Lothar Dunsch, 78 Cage Isomerism Defined by Trimetallic Nitride Cluster Size:  A Computational and Vibrational Spectroscopic Study, Journal of Physical Chemistry B, 111 (13): 3363-3369, 2007. DOI
2006
Amrinder S. Nain, Joanna C.H. Wong, Cristina Amon, and Metin Sitti, Drawing suspended polymer micro-/nanofibers using glass, micropipettes, Applied Physics Letters, 89, 183105, 2006. DOI
2005
Matthias Krause, Xianjie Liu, Joanna C.H. Wong, Thomas Pichler, Martin Knupfer, and Lothar Dunsch, The Electronic and Vibrational Structure of Endohedral Tm3N@C80 (I) Fullerene − Proof of an Encaged Tm3+, Journal of Physical Chemistry A, 109 (32): 7088-7093, 2005. DOI
Xianjie Liu, Matthias Krause, Joanna C.H. Wong, Thomas Pichler, Lothar Dunsch, Martin Knupfer, Electronic structures of the pristine and K-intercalated Tm3N@C80endohedral fullerenes, Physical Review B, 72, 085407, 2005. DOI
Matthias Krause, Joanna C.H.Wong, Lothar Dunsch, Expanding the World of Endohedral Fullerenes—The Tm3N@C2n (39≤n≤43) Clusterfullerene Family, Chemistry - A European Journal, 11 (2), 706-711, 2005. DOI