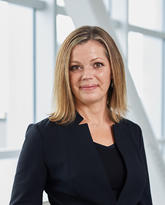 Jocelyn Hayley
Professor
Department of Civil Engineering
Department Head
Department of Civil Engineering
PhD - Geotechnical Engineering
University of Alberta, 1999
BSc - Civil Engineering
University of Alberta, 1994
Preferred method of communication
Please contact me by email
Research
Research areas
Permafrost sediments - properties, hazards, risks, climate adaptation
Gas hydrate and gassy soils - properties and marine hazards
Gas hydrate and gassy soils - unconventional hydrocarbons
Research activities
Studying the fundamental engineering properties and behaviour of gassy soils, focusing on shear strength, consolidation characteristics, and static and dynamic liquefaction potential.
Describing the behaviour of deepwater marine clays, sands and mixtures containing gas and gas hydrates, specifically the compressibility, the response to unloading, and the effect of hydrate dissociation.
Assessing submarine geohazards in shallow and deep water marine slopes subjected to natural and anthropogenic influences, including climate warming.
Determining the geomechanical response of gas hydrate – sediment mixtures in order to facilitate the advancement of the methodologies and technologies required for characterization of methane gas reserves and formulation of field recovery strategies.
Assessing, quantifying, and modelling the strength, compressibility and thermal response of permafrost sediments, including subsidence and thaw induced by climate warming and the resulting geohazards and impacts on Arctic infrastructure.
Biography
Jocelyn Hayley, P.Eng., Ph.D., is a Professor (Geotechnical) and Head in the Department of Civil Engineering, Schulich School of Engineering at the University of Calgary. She holds a bachelor's degree in Civil Engineering (1994) and a Ph.D. in Geotechnical Engineering (1999) from the University of Alberta. Dr. Hayley spent two years in industry and has consulted on various projects during her career. She joined the University of Calgary in 2001 after a postdoctoral fellowship at the prestigious Norwegian Geotechnical Institute in Oslo, Norway (2000). In 2018, she became Head of the Department of Civil Engineering following 3 years as Senior Associate Dean (Research) in the Schulich School of Engineering (2015-2018).
Publications
View my publications on my research group website
Awards
2017 - SSE Teaching Achievement Award, SSE Research Achievement Award
2017 - APEGA Women in Engineering and Geoscience Champion Award
2017 - Fellow, Engineering Institute of Canada
2015 - SSE Teaching Excellence Award, SSE Service Excellence Award
2015 - Trailblazer Award, Women Engineering the Future
2015 - SSE Outstanding Teaching Award (2014, 2013, 2010)
2010 - Calgary's Top 40 under 40, Avenue Magazine