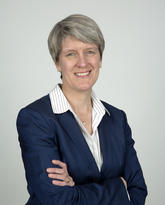 Josephine Hill
Professor
Department of Chemical and Petroleum Engineering
PhD
University of Wisconsin-Madison (1999)
MASc
University of Waterloo (1992)
BASc
University of Waterloo (1991)
P.Eng.
Courses
Dr. Hill has taught the following courses:
ENGG 201 – Behaviour of Solids, Liquids & Gases
ENGG 311 – Engineering Thermodynamics
ENCH 315 – Chemical Engineering Process Calculation
ENCH 421 – Chemical Engineering Kinetics
ENCH 519.10/ENEE 519 – Fuel Properties & Utilization
ENCH 551 – Chemical Engineering Laboratory
ENCH 651 – Engineering Fuel Cells
Preferred method of communication
Dr. Hill is always looking for bright and motivated people to join her research group. Even if no specific positions are advertised, you can send your CV and a brief statement of interest to: jhill@ucalgary.ca.
Research and teaching
Research areas
Catalytic Hydrotreating of Heavy Oil
Water Treatment
Catalytic Gasification
Research activities
Dr. Hill's research is in the area of catalysis with applications to fuel cells, hydrotreating, gasification, and the conversion of solid waste materials, such as petroleum coke and biomass, into catalyst supports and activated carbon, which can be used to clean up gas and liquid exhaust streams. The spent activated carbon can then be gasified to produce gaseous products, including hydrogen that can be used for hydrotreating and in fuel cells.
Catalytic Hydrotreating of Heavy Oil:

The Hill group is developing sulphur-resistant catalysts to break aromatic rings and effectively upgrade heavy oil. The use of catalysts in heavy oil upgrading significantly improves the hydrogenation process through energy savings, selective product yields, faster reactions and removal of contaminants. Work is on-going to develop catalysts from the by-product petroleum coke.
Tailings Ponds Water Treatment:

Activated carbon can be economically produced from waste biomass. Research is on-going to understand the microstructure and surface properties of activated carbon to maximize the adsorption capacity for removal of organic and inorganic pollutants in tailings ponds.
Catalytic Gasification:

Using a catalyst reduces the severity of the gasification process but the catalysts must be economic. The Hill group has found that naturally occurring sources of catalysts (e.g., switchgrass) improve the gasification of coal and petcoke and the overall sustainability of the process.
Solid Oxide Fuel Cells (SOFC):

Carbon accumulation, from the use hydrocarbon fuels, decreases the efficiency and lifetime of SOFC anodes. The Hill group has developed a novel method of applying anti-coking compounds to SOFCs, while preserving the mechanical integrity of the anodes. This methodology promises to significantly improve the performance and service-life of fuel cell anodes.
Biography
Tier II Canada Research Chair in Hydrogen and Catalysis
Dr. Hill currently serves as the Canada Research Chair in Hydrogen and Catalysis in the Department of Chemical and Petroleum Engineering. In 2014, Dr. Hill was among the first group of 91 scholars to join the College of New Scholars, Artists and Scientists, an organization launched by the Royal Society of Canada. As well several technical awards, she has also received accolades for her mentoring work including the Engineers Canada Award for the Support of Women in the Engineering Profession.

Cross Appointments and Affiliations:
Publications
Selected Publications:
1. JM Hill, A Karimi, and M Malekshahian, Characterization, gasification, activation, and potential uses for the millions of tonnes of petroleum coke produced in Canada each year, Canadian Journal of Chemical Engineering (2014) 92, 1618-1626 - Invited Review Article.
2. A Veksha, W Zaman, DB Layzell, JM Hill, Enhancing Biochar Yield by Co-pyrolysis of Bio-oil with Biomass: Impacts of Potassium Hydroxide Addition and Air Pretreatment Prior to Co-pyrolysis, Bioresource Technology (2014) 171, 88–94.
3. Melissa D. McIntyre, John D. Kirtley, Anand Singh, Shamiul Islam, Josephine M. Hill, and Robert A. Walker, Comparing in situ carbon tolerances of Sn-infiltrated and BaO-infiltrated Ni-YSZ cermet anodes in solid oxide fuel cells exposed to methane, Journal of Physical Chemistry (2015) 119(14), 7637-7647.
4. Sip Chen Liew and Josephine M. Hill, Impacts of vanadium and coke deposits on the CO2 gasification of nickel catalysts supported on activated carbon from petroleum coke, Applied Catalysis A, General (2015) 504, 420-428 DOI information: 10.1016/j.apcata.2014.11.006A, Special Issue for JC Vedrine – invited contribution.
5. Shamiul Islam and Josephine M. Hill, Barium oxide promoted Ni/YSZ solid-oxide fuel cells for direct utilization of methane, Journal of Materials Chemistry A (2014) 2 (6), 1922-1929.
6. Rozita Habibi, Jan Kopyscinski, Mohammad Masnadi, Jill Lam, John Grace, Charles Mims, and Josephine M. Hill, Co-gasification of biomass and non-biomass feedstocks: Synergistic and inhibition effects of switchgrass mixed with sub-bituminous coal and fluid coke during CO2 gasification, Energy and Fuels (2013) 27 (1), 494-500.
7. Massimiliano Cimenti and Josephine M. Hill, Direct utilization of liquid fuels in SOFC for portable applications: challenges for the selection of alternative anodes, Energies (2009), 2(2), 377-410.
8. Hongpeng He and Josephine M. Hill, Carbon Deposition on Ni/YSZ Composites Exposed to Humidified Methane, Applied Catalysis A: General (2007) 317, 284-292.
9. Guohui Li, Linjie Hu, Josephine M. Hill, Comparison of reducibility and stability of alumina-supported Ni catalysts prepared by impregnation and co-precipitation, Applied Catalysis A: General (2006), 301, 16-24.
Awards
Selected Awards:
2015 – Research Excellence Award, Schulich School of Engineering
2015 – WEF Expo Advocating Women in Engineering Award
2015 – Outstanding Teaching Performance, Schulich School of Engineering
2014 – Member, College of New Scholars, Artists and Scientists, Royal Society of Canada
2013 – Engineers Canada Award for the Support of Women in the Engineering Profession
2012 – APEGA Women in Engineering and Geoscience Champion Award
2009 – Syncrude Canada Innovation Award, CSChE
2007 – Canada Research Chair in Hydrogen and Catalysis
2004 – Canadian Hunter Young Innovator Award