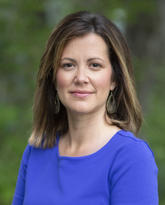 Kerry Black
Assistant Professor
Department of Civil Engineering
Assistant Professor
Centre for Environmental Engineering Research and Education
Canada Research Chair (Tier II)
Integrated Knowledge, Eng. & Sustainable Communities
PhD - Environmental Engineering
University of Guelph, 2017
M.A.Sc. - Civil Engineering
University of British Columbia, 2011
B.A. Sc - Civil Engineering
University of Toronto, 2007
Preferred method of communication
Please email kerry.black@ucalgary.ca
Research and teaching
Research areas
Energy for the environment
Sustainable and resilient infrastructure
Environmental infrastructure (water and wastewater)
Environment and climate change
Climate change adaptation
Sustainable water management
Engineering education
Sustainable community development
Indigenous community-based research
Sustainable infrastructure
Activities
Sustainable Water & Wastewater Treatment and Management Through Bottom-Up Participatory Technology Development
Developing community-based frameworks and tools for water and wastewater treatment and management
Investigating Climate Change Adaptation and Mitigations Strategies for Sustainable Water & Wastewater Management for northern and remote communities, as well as urban contexts
Integrated Knowledge Approaches to Sustainable Infrastructure Design with a particular focus in Indigenous Communities
Advancing community-based participatory approaches to infrastructure design and management, utilizing quantitative and semi-qualitative methods to develop frameworks and tools.
Indigenous Knowledge integration into sustainable infrastructure design and management
Developing knowledge translation and assessment tools to support evidence-based decision making
Biography
Kerry Black is an Assistant Professor and Schulich Research Chair (Integrated Knowledge, Engineering & Sustainable Communities), in the Center for Environmental Engineering Research and Education (CEERE) and the Department of Civil Engineering, at the University of Calgary. She received her PhD from the University of Guelph with research focused on sustainable water and wastewater management in Indigenous communities. Her focus is to engage in a cross-disciplinary research platform, incorporating technical civil and environmental engineering principles and research, with policy and socio-economic components, focusing on sustainable infrastructure for healthy and resilient communities.
Over the past 12 years, she worked extensively in the academic, public, private and non-profit sectors, employed in technical, scientific, policy, and management roles. The majority of my experience has included working with and for Indigenous communities on urgent and pressing infrastructure issues across Canada. Her cross-disciplinary research has been featured in both engineering and social science journals. Dr. Black is a strong advocate for increasing diversity in science and engineering, sustainability initiatives and programs, and community development, including her work with Indigenous communities, including most recently with the Assembly of First Nations and the British Columbia First Nations Housing & Infrastructure Council.
Publications
Black, K. McBean, E. (2018). Drinking Water Supply Systems: Addressing Advisories Through Real-Time Water Quality Monitoring Data. Journal for Water Supply: Research and Technology – AQUA. Accepted – In Press
Black, K. McBean, E. (2017d). Indigenous Water, Indigenous Voice – A National Water Strategy for Canada's Indigenous Communities. Canadian Water Resources Journal.
Black, K., McBean, E. (2017c). Community-Based Operator Training and Appropriate Certification Regimes for Indigenous Water and Wastewater Systems. Canadian Water Resources Journal. Accepted January 2017.
Black, K. McBean, E. (2017b) First Nations' water sustainability and Security Strategy: Tools and methodologies for community-driven processes for water treatment in Indigenous communities. Technology in Society. 50. 57-65.
Black, K., McBean, E. (2017a). Analysis of challenges and opportunities to meaningful Indigenous engagement in sustainable water and wastewater management. Water Policy. 19 (4) 709-723.
Black, K., McBean, E. (2016). Increased Indigenous Participation in Environmental Decision-Making: A Policy Analysis for the Improvement of Indigenous Health. The International Indigenous Policy Journal, 7(4).
Basu, O. D., Dhawan, S. and Black, K. (2016), Applications of biofiltration in drinking water treatment – a review. J. Chem. Technol. Biotechnol., 91: 585–595.
Black K. and Bérubé P.R. (2014) Rate and Extent of NOM Removal During Oxidation and Biofiltration, Water Research, 52C, 40-50.