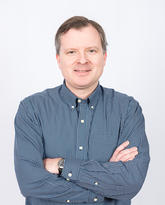 Kyle O'Keefe
Professor
Department of Geomatics Engineering
PhD - Geomatics Engineering
University of Calgary, 2004
BSc - Geomatics Engineering
University of Calgary, 2000
BSc (Honours) - Physics
University of British Columbia, 1997
Courses
Dr. O'Keefe teaches geomatics engineering courses in:
Advanced GNSS theory and application
Wireless location
Field surveys
Computing for geomatics engineers
View a complete course list
Preferred method of communication
Email
Research
Research areas
Intelligent and autonomous systems
Navigation and positioning technologies
Satellite technologies
Multi-sensor systems
Wireless positioning
Vehicles and transportation systems
Driverless cars - technology development
IoT
Smart sensing
Sensor fusion/integration
Research activities
Dr. O'Keefe's research interests include global navigation satellite systems (GNSS) and wireless location. His research includes both local area wireless location, satellite navigation, and augmentation of satellite navigation with ground-based RF measurements. He has done extensive work in the simulation of future radio-navigation systems and their error sources, both at the system performance and observation level. He is also interested in the mathematics behind precise carrier phase GNSS positioning, particularly the application of statistical reliability theory to the carrier phase ambiguity resolution problem and its augmentation with other systems and sensors.
Biography
Dr. Kyle O'Keefe is a professor in the Department of Geomatics Engineering at the University of Calgary. He has worked in positioning and navigation research since 1996. He received a BSc in honours physics from the University of British Columbia in 1997 and a BSc in geomatics engineering from the University of Calgary in 2000. Dr. O'Keefe holds a PhD in geomatics engineering from the University of Calgary and is a researcher in the Position, Location and Navigation (PLAN) Group.
Awards
2004 to 2016 – 11 departmental and faculty teaching awards
2015 Faculty of Graduate Studies Great Supervisor Award
2013 Schulich School of Engineering Departmental Service Excellence Award
2011 – Royal Institute of Navigation Michael Richey Medal for Best Paper in RIN Journal of Navigation in 2010
2010 – Canadian Aeronautics and Space Institute Alouette Award (awarded to the CanX2 nanosatellite mission team, including the University of Calgary GPS Payload team
2010 – Institute of Navigation Best Paper Award for ION GNSS 2010 Session F2
2008 – Institute of Navigation Best Paper Award for ION GNSS 2008 Session F6
2002 – Honourary Izaak Walton Killam Memorial Scholarship
2001 – Institute of Navigation GPS 2001 Best Student Paper Award