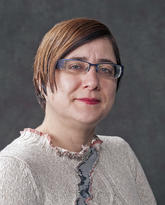 Laura Curiel
Assistant Professor
Department of Electrical and Software Engineering
BSc (Eng)
ITESM Mexico, 1995
MSc
University of Lyon, 1998
PhD
Institut National de Sciences Appliquees Lyon, 2001
Contact information
Location
Information and Communications Technology :
ICT346
Office hours
Monday & Wednesday: 10am until 11:30am
Tuesday & Thursday 9am until 10am
Friday 9am until 3pm
Preferred method of communication
Please contact me by email.
Research
Research areas
• Biomedical devices and systems
• Ultrasound imaging and instrumentation
• Therapeutic ultrasound applications
• High Intensity Focused Ultrasound
Research activities
Dr. Curiel's research work is centred in High-Intensity Focused Ultrasound (HIFU) therapy and guidance. HIFU has the potential for minimally invasive treatments that selectively destroy or interact with cells located in a targeted zone. The research activities of the group centre on developing pre-clinical tools, novel imaging guidance and collaborative projects.
Therapeutic Ultrasound Research Platforms
HIFU research platforms can increase collaboration and help applications translate by creating ergonomic, flexible and user-oriented devices. In the group, we work in collaborative projects with researchers across multiple centres to support the development platforms that can achieve this purpose. We currently explore platforms for positron emission tomography/HIFU, MRI-guided HIFU devices for small animals and bench top devices for superficial HIFU.
Therapeutic Ultrasound Device Development
We are also working on developing further applications for HIFU. Our work includes the investigation of bio-effects and design of new devices and the exploration of monitoring tools to achieve the safest and most effective treatment result.
Biography
Dr. Curiel established her research at the University of Calgary in January 2018 after moving her independent research work from ThunderOntario (Lakehead University). She has a B. Eng. in Electronic Systems from the ITESM Mexico and obtained a Ph.D. in Imaging and Systems from the INSA Lyon, France. She has worked since 1999 in HIFU devices in pioneering groups using this technology for clinical purposes (INSERM Lyon / Edap Technomed and Sunnybrook Research Institute). She has published her work in the field and patented technology in the field of HIFU and ultrasound technology.
Publications
Abraham C, Pichardo S, Loree-Spacek J, Drainville A, Curiel L. Development of custom RF coils for use in a small animal platform for magnetic resonance-guided focused ultrasound hyperthermia compatible with a clinical MRI scanner. International Journal of Hyperthermia, 2018
Abraham C, Jani P, Turuba R, Campbell M, Zehbe I, Curiel L. In Vivo 3T Magnetic Resonance Imaging Using a Biologically Specific Contrast Agent for Prostate Cancer: A Nude Mouse Model. J of Nanotechnology, 2018
Pichardo S, Moreno C*, Drainville A*, Sin V, Curiel L, Hynynen K. A viscoelastic model for the prediction of transcranial ultrasound propagation: Application for the estimation of shear acoustic properties in the human skull. Physics in Medicine and Biology, 2017
Abraham CB, Tomanek B, Curiel L. Contrast Optimization for an Animal Model of Prostate Cancer MRI at 3T. Journal of Modern Physics, 2016
Kivinen J, Togtema M, Mulzer G, Choi J, Zehbe I, Curiel L, Pichardo S. Sonoporation efficacy on SiHa cells in vitro at raised bath temperatures – experimental validation of a prototype sonoporation device. J Ther Ultrasound, 2015.
Pichardo S, Silva RC, Rubel O, Curiel O. (2015). Efficient Driving of Piezoelectric Transducers Using a Biaxial Driving Technique. PLOS ONE, 2012
Awards
Prix des Amies de l'Universite de Lyon