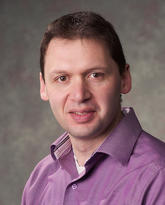 Leo Belostotski
Professor
Department of Electrical and Computer Engineering
BSc
University of Alberta, 1997
MSc
University of Alberta, 2000
PhD
University of Calgary, 2007
Preferred method of communication
Please contact me by email.
Research
Research areas
RF and mm-wave integrated circuits
High-sensitivity receivers
Beamforming
Research activities
Our research areas of focus include various aspects of RF and mm-wave circuits and systems, mixed-signal circuits, and beamforming networks. We have demonstrated ultra-senstive room-temperature low-noise amplifiers (LNAs), novel noise-parameter measurement systems, new types of analog-to-digital convertes, and unique beamforming solutions. For more information please contact Dr. Belostotski.
Biography
Leonid Belostotski received the B.Sc. and M.Sc. degrees in electrical engineering from the University of Alberta, Edmonton, AB, Canada, in 1997 and 2000, respectively, and the Ph.D. degree from the University of Calgary, Calgary, AB, Canada, in 2007. He was an RF Techniques-11 Contest on Creativity and Originality in Microwave Measurements in 2008 and the Outstanding Student Designer Award from Analog Devices, Inc., in 2007. He is the IEEE Southern Alberta Solid-State Circuits and Circuits and Systems Chapter's Chair. He Engineer with Murandi Communications Ltd., Calgary, from 2001 to 2004. He is currently a Professor with the University of Calgary and the Canada Research Chair in high-sensitivity radiometers and receivers. His current research interests include RF and mixed-signal ICs, high sensitivity receiver systems, antenna arrays, and terahertz systems. Dr. Belostotski was a recipient of the IEEE Microwave Theory and is an Associate Editor of IEEE TRANSACTIONS ON INSTRUMENTATION AND MEASUREMENT. He is a member of the International Solid-State Circuits Conference (ISSCC) publication and editorial committee.
Awards
GREAT Supervisor Award, 2016
Schulich School of Engineering Research Excellence Award, 2015
Outstanding Teaching Performance (multiple years)