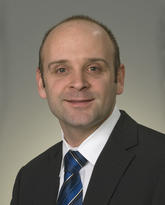 Mark Petovello
Professor
Department of Geomatics Engineering
PhD, Geomatics Engineering
University of Calgary (2003)
BSc (Eng), Geomatics Engineering
University of Calgary (1998)
P.Eng.
Courses
Dr. Petovello has taught the following courses:
ENGG 233 – Programming for Engineers I
ENGO 333 – Computing for Geomatics Engineers
ENGO 421 – Coordinate Systems
ENGO 465 – Satellite Positioning
ENGO 620 – Estimation for Navigation
Research and teaching
Research areas
Position, Location And Navigation (PLAN) Group
Research activities
Dr. Petovello's research interests include global navigation satellite systems (GNSS) and its integration with inertial navigation systems (INS) and other dead-reckoning sensors. He is currently researching new methods of acquiring and tracking GNSS signals using a software-based GNSS receiver with a specific focus on carrier phase tracking in degraded signal environments.
Dr. Petovello has extensive experience with high accuracy GNSS and GNSS/INS applications including on-the-fly ambiguity resolution. He has worked on several projects with agencies such as Canadian Department of National Defense and the U.S. Navy. Dr. Petovello has also developed and tested numerous navigation-related software packages.
Current research activities include:
Development of software-based GNSS receivers
Developing new GNSS receiver architectures that integrate INS and other dead-reckoning sensors to improve overall performance
Multi-sensor integration for navigation applications
Assessing the probability of correct carrier phase ambiguity resolution in the presence of time-correlated observation errors
Biography
Dr. Mark Petovello joined the Department of Geomatics Engineering in January of 2008 and works in the area of positioning and navigation. He is a member of the Position, Location And Navigation (PLAN) research group where he conducts research using Global Navigation Satellite Systems (GNSS), software receivers, inertial navigation systems (INS) and other multi-sensor systems.
Dr. Petovello has received several awards for his research including the U.S. Institute of Navigation's Early Achievement Award and the Association of Professional Engineers and Geoscientists of Alberta's (APEGA's) Early Achievement Award. He has also received several University of Calgary awards for his research and teaching accomplishments.
Dr. Petovello is a contributing editor for Inside GNSS magazine and an associate editor of NAVIGATION, the Journal of the Institute of Navigation. He is currently serving as the Chair of the ION Alberta Section and is registered as a professional engineer in the province of Alberta, Canada.
Publications
Selected Publications:
Xie, P. and M.G. Petovello (2015) Improved Correlator Peak Selection for GNSS Receivers in Urban Canyons, Journal of Navigation, in press.
Aumayer, B.M. and M.G. Petovello (2015) Effect of Sampling Rate Error on GNSS Velocity and Clock Drift Estimation, NAVIGATION, in press.
Aumayer, B.M. and M.G. Petovello (2015) Feasibility Assessment of MEMS Oscillators for GNSS Receivers, GPS Solutions, March 2015, doi:10.1007/s10291-015-0441-9.
Xie, P. and M.G. Petovello (2015) Measuring GNSS Multipath Distributions in Urban Canyon Environments, IEEE Transactions on Instrumentation & Measurement, 64(2), pp. 366-377.
Narula, L., K.P. Singh and M.G. Petovello (2014), Accelerated Collective Detection Technique for Weak GNSS Signal Environment, Proceedings of Ubiquitous Positioning Indoor Navigation and Location Based Service (UPINLBS) Conference, 9 pages.
For more publications, visit Dr. Petovello's website.
Awards
Selected Awards:
2014 – Teaching Excellence Award, Students' Union
2013 – Selected as Distinguished Graduate for the June 10 2013 Convocation, University of Calgary
2013 – China Satellite Navigation Conference Excellent Paper Award
2012 – Teaching Excellence Award, Students' Union
2011 – Teaching Excellence Award, Department of Geomatics Engineering
2010 – Early Research Excellence Award, Schulich School of Engineering
2010 – Calgary's Top 40 Under 40, Avenue Magazine
2009 – Early Achievement Award, APEGA