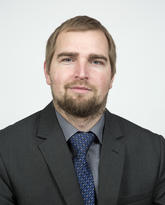 Martin Jasso
Assistant Professor
Department of Civil Engineering
Assistant Professor
Department of Chemical and Petroleum Engineering
John Lau - Husky Endowed Chair in Bituminous Materials
University of Calgary
PhD
University of Calgary, 2016
PhD
Slovak Technical University, 2013
MSc
Slovak Technical University, 2009
BSc
Slovak Technical University, 2007
Contact information
Office hours
Monday and Wednesday: 10 am until 11:30 am
Thursday: 2 pm until 3 pm
Preferred method of communication
Please contact me by email
Research
Research areas
Bituminous materials
Materials engineering
Environmentally friendly pavements
Research activities
Development of new methods and characterization of asphalt binders through rheological, mechanical, and physicochemical testing to determine their properties as materials for construction of flexible pavements
Optimization of asphalt binders with targeted engineering properties and durability through the utilization of new production processes, chemical and polymer modification and the application of nanotechnologies
Utilization of post-consumer wastes, chiefly of macromolecular type (waste tires, waste polyethylene, waste oils of different origin) in production of asphalt binders with improved engineering characteristics
Development of new testing methods and characterization of paving mixes with asphalt binders optimized in laboratories of University of Calgary and their comparison with conventional materials
Contact me for assistance with:
Bituminous materials group is looking for proactive, enthusiastic and talented master and doctorate students. If you are interested in working in our group please send me email with your CV, undergraduate and/or graduate grades. Please include a brief proposal of your research interests.
Biography
Dr. Martin Jasso concluded his Master's degree studies at the Slovak University of Technology in the Technology of Plastics and Rubber in 2009. He continued at the same university and obtained his first Ph.D. degree in Macromolecular Chemistry in 2013.
Because of his strong interest in asphalt technology and use of polymers in asphalt modification, Martin entered his second PhD studies at the Bituminous Materials Chair, University of Calgary. Focus of his work was on understanding the mechanisms of asphalt modification and the development of internal structure of asphalt compositions with polymers and other additives, using rheological characterization, spectroscopic methods, as well as conventional and Superpave tests. He obtained his second PhD degree in 2016.
In 2016, Martin worked as a research associate at the Bituminous Materials Chair. In the same year he was appointed to the position of the Chairholder of the Husky Energy Endowed Chair in Bituminous Materials at the Schulich School of Engineering, University of Calgary. In his position, Martin is responsible for the research and teaching program of the Chair, to develop new asphalt materials with improved engineering properties, new characterization methods for asphalt materials, to cooperate with and to support asphalt industry as well as to prepare new engineers and scientists in this field.
Publications
Shear banding in polymer modified asphalt binders?, 2018
Dali's melted pocket watch and the behavior of polymer modified asphalt binders, 2018
Rheology of conventional asphalt modified with SBS, Elvaloy and polyphosphoric acid, 2015
Modeling of tensile creep and recovery of polymer modified asphalt binders at low temperatures, 2015
Preparation and properties of conventional asphalt modified by physical mixtures of linear SBS and montmorillonite clay, 2013
Conventional asphalt modified by physical mixtures of linear SBS and montmorillonite, 2012
Network formation and properties of asphalt modified with styrene-butadiene-styrene and crosslinked by two different crosslinking agents, 2018
The Effect of High Stress on Asphalt Binders and Hot Mix Asphalt, 2018
Determination of rutting distresses on hot mix asphalts by advanced techniques, 2018
Rheological properties of conventional asphalt modified with styrene-butadiene-styrene crosslinked with sulfur, 2017
Mechanism of modification and internal structure of conventional asphalt modified with styrene-butadiene-styrene crosslinked with sulfur, 2017
Comparative study of two different polymers in hot & cold climates, 2017
Comparative study of two different polymers in "hard" conventional asphalt, 2017
Comparative study of two different polymer systems for the application of flexible pavements, 2016
Asphalt Roads, 2014
Effects of montmorillonite on the rheological properties of SBS/asphalt/sulfur blends, 2013
Roads in Canada, 2013
Awards
Elaine Thompson Editor's Award, 2018