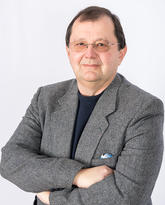 Martin P. Mintchev
Professor
Department of Electrical and Software Engineering
BSc/MSc (Hon), Electronics
Technical University of Sofia – Bulgaria, 1987
PhD, Electrical Engineering
University of Alberta, 1994
P.Eng.
FAIMBE
SM IEEE
Courses
Dr. Mintchev has taught the following courses:
ENEL 469 – Analog Electronic Circuits
ENEL 569 – Electronic Systems and Applications
ENEL 591 – Individual Computer, Electrical, and Software Engineering Design Project Part A
ENEL 599 - Individual Computer, Electrical, and Software Engineering Design Project Part B
ENEL 623 – Biomedical Systems and Applications
ENEL 619.96 – Design of Advanced Biomedical Systems
Preferred method of communication
Candidates should contact Dr. Mintchev directly.
Research and teaching
Research activities
Dr. Mintchev has extensive experience in biomedical engineering, signal processing and instrumentation. His research is in the area of low-frequency instrumentation, gastrointestinal motility and stimulation, biomedical and oilfield sensors, computer modeling of electrophysiological and physical phenomena, and design of microprocessor-based embedded systems for biomedical and oilfield applications. His work on validation and quantification of electrogastrograms (E.G.G.) has led to the first application of the E.G.G. technique in a clinical environment in Canada.
Biography
Dr. Mintchev received his combined BSc/MSc degree in electronics from the Technical University of Sofia, Bulgaria in 1987, and his PhD in electrical engineering from the University of Alberta in Edmonton, Alberta, Canada in 1994. In 1994 he finished post-doctoral training in experimental surgery in the Surgical Medical Research Institute in Edmonton, Alberta, Canada.
Dr. Mintchev serves as professor of Electrical and Computer Engineering, University of Calgary, Alberta, Canada and as an Adjunct Professor of Experimental Surgery, University of Alberta, Edmonton, Canada. He is the author of more than 200 peer-reviewed publications in refereed engineering, biomedical and medical journals, books and international conferences, and of more than 15 issued or pending patents, 8 of which are licensed by various international companies. He has been an invited speaker in many universities in Canada, USA, Europe, Australia, Japan and Latin America, and a panelist in grant selection committees for the National Science Foundation (USA) and the Natural Sciences and Engineering Research Council of Canada. His citation index exceeds 1000 (excluding self-citations), with an h-index exceeding 25. He is Fellow of the American Institute for Medical and Biological Engineering, member of the American Gastroenterological Association, Senior IEEE Member, and a registered Professional Engineer in the Province of Alberta, Canada. Throughout his academic career, Dr. Mintchev has received many different awards, including the Student Union Teaching Excellence Award (University of Calgary, 1997), Faculty of Engineering Research Excellence Award (University of Calgary, 1998), Canada Foundation for Innovation New Opportunities Award (1998), Petro Canada Research Award (1999), Natural Sciences and Engineering Research Council of Canada Discovery Accelerator Award (2011), etc. He has been a Distinguished Lecturer for the Institute of Electrical and Electronic Engineers (IEEE, 2010).
Graduate Program Affiliations:
Director, Low-Frequency Instrumentation Laboratory
Collaborator, I2Sense Laboratory
Publications
For a list of publications, visit Dr. Mintchev's ResearchGate profile.