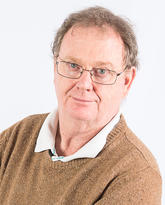 Michael Barry
Professor
Department of Geomatics Engineering
Chair in Land Tenure and Cadastral Systems
Department of Geomatics Engineering
BSc - Surveying
University of Cape Town, 1980
MBA
University of Cape Town, 1987
PhD - Land Tenure & Cadastral Systems
University of KwaZulu-Natal, 2000
Preferred method of communication
Student recruitment:
Positions are available for Masters or PhD levels students at the Land Tenure and Cadastral Systems Group.
Applicants should have excellent undergraduate and/or masters level grades, good English writing skills, have an interest in land tenure and land administration, and be interested in interdisciplinary work. They should also be comfortable doing interviews in the field, be able to work independently, and be committed to working as part of a team. The research is interdisciplinary, and so a candidate may have a background in the social sciences, law, planning or land surveying / Geomatics, among others. A record of publishing in peer reviewed journals would be an asset, especially for PhD candidates. Successful applicants should have well developed writing skills as they are expected to contribute to the research team's output by essay writing refereed journal and conference papers on their research projects. They are also expected to apply for additional scholarships and grants which will contribute to the support.
Click here for more information.
Research and teaching
Research areas
GIScience and Land Tenure
Human dynamics in a changing world
Land tenure and cadastral systems
Conflict and post-conflict land-rights management
Land Tenure Information Systems evaluation and development
Research activities
Land tenure security
My research examines the development and effectiveness of tools that are supposed to support land tenure security such as land registration systems and cadastral survey systems. Much of my work is in African countries and involves field work in peri-urban situations, informal settlements and post-conflict situations.
Development of software to support land tenure administration in complex social and political environments
The research involves developing software design to handle soical and political situatiosn that are too complex for conventional registration systems to handle. To date the work has inGIScience and Land Tenureovled database design, data mining and social network analysis.
Biography
Dr. Michael Barry hails from Cape Town, South Africa. He joined the University of Calgary's Department of Geomatics Engineering in 2002 and holds the Chair in Land Tenure and Cadastral Systems.
Dr. Barry spent 12 years in industry as a surveyor prior to choosing a career in academia in the Department of Geomatics, University of Cape Town, in 1992. He has working experience in GIS, project management, offshore oil platform positioning, cadastral surveying, hydrographic surveying and engineering surveying. He has worked as a private surveyor and project manager in Iraq, Indonesia, Zambia, Botswana and South Africa. As a public servant he worked for the Cape Town City Council for 5 years where he was Principal Land Surveyor upon resignation.
Dr. Barry has served on a number of South African government working groups in cadastral surveying, land tenure, land registration systems and GIS. He has consulted to the United Nations Food and Agriculture Organisation (FAO), UN-Habitat, the British Council, Southern African Development Community (SADC) and the World Bank. He has done research and consulting relating to his research in Botswana, Canada, Ghana, Lesotho, Malawi, Namibia, Nigeria, The Philippines, Somaliland, South Africa, Swaziland, Tanzania, Zambia and Zimbabwe. He is Canada's representative to Commission 7 of the International Federation of Surveyors (FIG), and a director of the FIG Foundation.
Publications
Selected Publications:
Barry, M., and Roux, L. (2016) "Land ownership and land registration suitability theory in state-subsidised housing in two South African towns," Habitat International, vol. 53, pp. 48-54.
Barry, M., and Danso, E.K. (2014) "Tenure security, land registration and customary tenure in a peri-urban Accra community," Land Use Policy, vol. 39, pp. 358-365.
Barry, M., and Roux, L. (2013) "The case study method in examining land registration usage," Geomatica, vol. 67, no. 1, pp. 267-281.
Awards
Chair in Land Tenure and Cadastral Studies 2013 -2020
Schulich School of Engineering Service Excellence Award 2017
Professor of the Year, Teaching Excellence Award by the Graduating Class of Geomatics Engineering, 2017, 2014, 2009
University of Calgary Engineering Students Society Teaching Excellence Award for Third and Fourth year courses, 2012.
John Holmlund Chair in Land Tenure and Cadastral Systems 2008 -2013