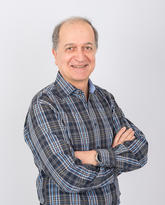 Michael Sideris
Professor
Department of Geomatics Engineering
Dipl.-Ing. (Honours)
NTU, Athens, Greece, 1981
M.Sc.
The University of Calgary), 1984
Ph.D.
The University of Calgary, 1987
Courses
Undergraduate courses
Probability and Statistics for Engineers; Analysis of Surveying Results; Geodetic Positioning; Fundamentals of Surveying; Field Surveys; Independent Project; Analysis of Surveying Results; Optimization in Surveying; Survey Networks; The Gravity Field In Surveying and Geodesy; Surveying and Mapping Procedures; Fundamentals of Geodesy, Map Projections and Cartography.
Graduate courses
Theoretical Foundations of Geodesy; Gravity Field Approximation; Operations Research in Surveying/Modelling and Optimization Analysis; Special Studies in Network Adjustments and Geometric Deformation Analysis.
Research and teaching
Research activities
Dr. Sideris' research interests are mainly in the field of physical geodesy, including spectral and wavelet methods for precise geoid determination, satellite altimetry, airborne and satellite gravimetry and gradiometry, and the solution of geodetic boundary value problems. Sideris' recent project involves monitoring the temporal changes in the gravity field, oceans, land, water and ice masses in North America by means of integrated satellite data. Other research includes:
Preanalysis and adjustment of geodetic networks.
Engineering, industrial and deformation surveys.
Gravity field modelling, with emphasis on FFT and other spectral filtering techniques for local gravity field approximation.
Precise geoid determination and the use of GPS for orthometric height determination.
Airborne gravity and gradiometry for geodesy and geophysical exploration.
Optimization (of accuracy and logistics) and control in geomatics.
Satellite altimetry and satellite gravimetry applications in geodesy, geophysics and oceanography.
Optimal combination of terrestrial, airborne, marine and satellite measurements for gravity field determination.
Use of multi-resolution analysis and wavelets in gravity field approximation methods.
Biography
National and International Involvement
Board of Directors of ASTech
Board of Directors of The Van Horne Institute.
Current International Association of Geodesy (IAG) Involvement: Fellow of the IAG, Secretary of IAG Section III: Determination of the Gravity Field, Chairman of the International Geoid Service Special Working Group on the GSFC/NASA model evaluation, member of SSGs 3.165, 4.169, and corresponding member of the International Geoid Commission.
Past IAG Involvement: President of SSG 3.113 and 3.135, member of SSGs 4.91, 4.118, 3.136, 4.139, and 4.141, and corresponding member of SSG 3.111.
Other Involvement: Canadian IAG National Delegate to the IUGG, Chairman of the Canadian Geoid Committee, member of the AGU and the Canadian Institute of Geomatics (CIG), member of the CIG Geodesy Committee.
Awards
2007 - elected President of the International Association of Geodesy for the period 2007 to 2011
2004 - conferred the degree of Doctor Honoris Causa (Dr. h.c.) by the University of Architecture, Civil Engineering and Geodesy in Bulgaria.
2003 - appointed Associate Dean in the Faculty of Graduate Studies
2003 - elected Vice President of the IAG. IAG is a scientific organization in the field of geodesy, which promotes cooperation and research in geodesy on a global scale. It is one of the seven member associations of the IUGG, which itself is a member of the International Council for Scientific Unions (ICSU)