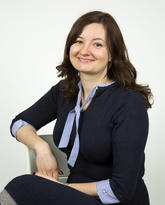 Milana Trifkovic
Associate Professor
Department of Chemical and Petroleum Engineering
NSERC Postdoctoral Fellow
University of Minnesota, 2010-2013
PhD - Chemical & Biochemical Engineering
The University of Western Ontario, 2010
BSc (with distinction) - Chemical and Biochemical Engineering
University of Western Ontario, 2006
Contact information
Location
Calgary Centre for Innovative Technology :
CCIT 318
Research
Research areas
Nanoparticle-stabilized emulsion and emulsion gels
Polymer blends and polymer blend nanocomposites
Polymer flocculation of tailings systems
4D (3D plus time) imaging of fast dynamic chemical processes
Energy systems control and optimization
Research activities
The Trifkovic group investigates optimal design, operation and control of complex, non-linear engineering systems. Trifkovic's group seeks solutions to these problems through a combination of theoretical and experimental research that enables transforming promising lab concepts into concrete solutions to pressing problems in energy sector.
The group focuses on connecting microstructure and rheology of complex fluids and soft matter as well as in-operando monitoring of electrochemical processes, polymer blend coarsening, and polymer flocculation. We develop new, state-of-the-art methods to probe these systems at an unprecedented level of detail and deepen our understanding of underlying phenomena which govern their bulk properties.
Biography
Milana Trifkovic joined the Department of Chemical and Petroleum engineering at the University of Calgary in April, 2013. Prior to joining the faculty, Milana was an NSERC postdoctoral fellow at the Department of Chemical Engineering and Materials Science at University of Minnesota under the joint direction of Profs. Christopher Macosko and Prodromos Daoutidis. She received her PhD in Chemical and Biochemical Engineering from the Western University under the supervision of Dr. Sohrab Rohani.
Awards
Natural Sciences and Engineering Research Council of Canada - Discovery Supplement Accelerator Award (2020)
The Killam Award in Undergraduate Mentorship (2019)
Team Teaching Award - Taylor Institute (2019)
Outstanding Role Model for Women from Academia - Society of Petroleum Engineers (2018)
Award for Excellence in Science and Technology Public Awareness - Alberta Science and Technology Leadership (ASTech) Foundation (2017)
Airbus Global Engineering Deans Council (GEDC) Diversity Award (2017)
The Schulich School of Engineering - Departmental Teaching Excellence Award (2015)
Student Union - Teaching Excellence Award (Engineering - Honourable Mention) (2015)