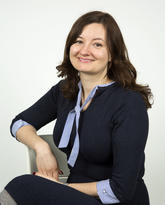 Milana Trifkovic
Associate Professor
Department of Chemical and Petroleum Engineering
NSERC Postdoctoral Fellow
University of Minnesota, 2010-2013
PhD - Chemical & Biochemical Engineering
The University of Western Ontario, 2010
BSc (with distinction) - Chemical and Biochemical Engineering
University of Western Ontario, 2006
Contact information
Location
Calgary Centre for Innovative Technology:
CCIT 318
Courses
Dr. Trifkovic has taught the following courses at the University of Calgary:
Dynamic Simulation Workshop (ENCH 106)
Numerical Methods in Chemical and Oil & Gas Engineering (ENCH 407)
Process Dynamics and Control (ENCH 429)
Research Seminar (ENCH 601)
Advanced Mathematical Methods in Engineering (ENCH 703)
Preferred method of communication
The Trifkovic Research Group is a collaborative, ambitious, multi-disciplinary research group working at the forefront of material design, process control and optimization. They accept students from many disciplines, including Chemical Engineering, Materials Science, Software Engineering and all related fields of Engineering.
Outstanding master's, doctorate, and post-doctorate candidates are encouraged to contact Dr. Trifkovic directly. Please send your CV along with a brief description of your previous research experience and future interests.
Research and teaching
Research areas
Nanoparticle-stabilized emulsion
Colloidal systems
Polymer-blend nanocomposites
Research activities
The Trifkovic group investigates optimal design, operation and control of complex, non-linear engineering systems. Trifkovic's group seeks solutions to these problems through a combination of theoretical and experimental research that enable transforming promising lab concepts into concrete solutions to pressing problems in energy sector. Her group performs experimental research in three main areas: nanoparticle stabilized emulsions, colloidal systems and polymer blend nanocomposites. Fundamental aspects of microstructural evolution of these systems in the presence of shear have been the core activity of the group. The complex fluids and nanoparticle synthesis activities are currently expanding.
Biography
Milana Trifkovic joined the Department of Chemical and Petroleum engineering at the University of Calgary in April, 2013. Prior to joining the faculty, Milana was an NSERC postdoctoral fellow at the Department of Chemical Engineering and Materials Science at University of Minnesota under the joint direction of Profs. Christopher Macosko and Prodromos Daoutidis. She received her PhD in Chemical and Biochemical Engineering from the Western University under the supervision of Dr. Sohrab Rohani.
Publications
Selected publications
BK Pilapil, H Jahandideh, SL Bryant, M Trifkovic (2016) "Stabilization of Oil-in-Water Emulsions with Noninterfacially Adsorbed Particles" Langmuir, 32 (28), 7109–7116.
EC Umeozor and M Trifkovic (2016) "Operational Scheduling of Microgrids via Parametric Programming" Applied Energy, 180, 672-681.
M. Trifkovic, AT Hedegaard, M Sheikhzadeh, S Huang, CW Macosko (2015) "Stabilization of PE/PEO Cocontinuous Blends by Interfacial Nanoclays" Macromolecules, 48 (13) 4631-4644.
"Modeling and Control of Renewable Hybrid Energy System with Hydrogen Storage" M. Trifkovic, M. Sheikhzadeh, K. Nigim, P. Daoutidis (2014) Control Systems Technology, IEEE Transactions on, 22(1), 169-179.
"Porous Films via PE/PEO Cocontinuous Blends", Trifkovic, A. Hedegaard, M. Sheikhzadeh, C.W. Macosko (2012) Macromolecules 45 (15), 6036-6044.