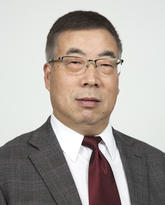 Mingzhe Dong
Professor
Department of Chemical and Petroleum Engineering
BASc.
Northwest University, Xi'an (1982)
MASc.
University of Petroleum, Beijing (1985)
Ph.D.
University of Waterloo (1995)
P.Eng.
Contact information
Location
Energy, Environment, Experiential Learning Building :
EEEL 415D
Courses
ENPE 313 Introduction to Flow in Porous Media
ENPE 429 Reservoir Engineering
ENPE 519.05 Petroleum Engineering Design Workshop I
ENPE 519.06 Petroleum Engineering Design Workshop II
ENPE 523 Introduction to Reservoir Engineering
ENPE 551 Petroleum Engineering Laboratory
ENCH 609 Natural Gas Processing Technology
ENCH 619.01 Phase Behaviour of Oil & Gas Systems
Design project supervision in:
ENPE511 Design for Oil and Gas Engineering I
ENPE531 Design for Oil and Gas Engineering II
Research and teaching
Research areas
Fluid flow in porous media
Enhanced oil recovery
Surface chemistry and interfacial phenomena
Reservoir simulation
Phase behaviour in enhance oil recovery processes
Research activities
Dr. Dong research interests include: flow in porous media, enhanced oil recovery, reservoir simulation, chemical flooding for heavy oil recovery, surface and colloid chemistry, solvent extraction of oil sands, and CO2 sequestration.
Dr. Dong's fundamental studies on multiphase flow in porous media investigates the role played by capillary forces in immiscible displacement in porous media, thick-oil film formation and flow in three-phase systems, and measurement and modeling of three-phase relative permeabilities.
Research on enhanced oil recovery (EOR) techniques include: miscible/immiscible gas injection, ASP flooding, thermal recovery and solvent methods. One of the EOR programs Mingzhe is working-on is to combine low interfacial tension, mass transfer, and mechanical shear (disturbance) in a chemical injection process such that heavy oil can be broken up into small droplets, entrained in the water phase, and carried out of oil sands or deposits.
Mingzhe's research on greenhouse gas sequestration in depleted oil and gas reservoirs includes CO2 diffusion in water and oil saturated cores, long-term fate of CO2 injected in geological storages, and injection strategies for sequestration.
Last modified date: 4/04/16
Biography
Dr. Mingzhe Dong is a professor in the Department of Chemical and Petroleum Engineering, University of Calgary. Prior to the appointment at the University of Calgary in 2007, he was a professor of Petroleum Systems Engineering in the Faculty of Engineering at the University of Regina (2001-2007). He holds a B.A.Sc from Northwest University, Xi'an, an M.A.Sc from the China University of Petroleum, Beijing, and a Ph.D. from the University of Waterloo, Ontario, all in chemical engineering. He was a senior research engineer in the Petroleum Branch of Saskatchewan Research Council between 1998 and 2001. Previously, he worked in the Department of Research and Technology of Imperial Oil Limited, Calgary, as an NSERC industry post-doctoral fellow. His research interests include multiphase flow in porous media, enhanced oil recovery, phase behaviour in gas injection, reservoir simulation, and interfacial phenomena in oil recovery processes. He has published over 130 peer-reviewed journal papers and 50 conference papers and produced more than 30 industrial research reports.
Publications
1. Faradonbeh M.R., Dong M., Harding T.G. and Abedi J., 2013. "Experimental and Modeling Study of Residual Liquid Recovery from Spent Sand in Bitumen Extraction Processes from Oil Sands", Journal of Environmental Science and Technology, 47(4): 2109-2116.
2. Guo, Z., Dong, M., Chen, Z., Yao, J., 2013. "Dominant Scaling Groups of Polymer Flooding for Enhanced Heavy Oil Recovery". Ind. Eng. Chem. Res. 52(2): 911-921.
3. Wang, S., Dong, M., and Yao, J, 2012. "A Model for Direct Estimation of Wetting Phase Relative Permeabilities Using a Multistep Drainage Process", Ind. Eng. Chem. Res., 51 (47): 15472–15483.
4. Chan, S., Chen, Z., and Dong, M., 2012. "Experimental and Numerical Study of Initial Water Mobility in Bitumen Reservoirs and Its Effect on SAGD", Journal of Petroleum Science and Engineering, 92-93: 30-39.
5. Wang, J., Dong, M., Yao, J., 2012. "Calculation of Relative Permeability Using An Interacting Triangular Tube Bundle Model", Particuology, 10(6): 710-721.