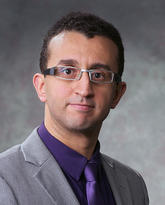 Mohamed Helaoui
Professor
Department of Electrical and Software Engineering
PhD
University of Calgary, 2008
Contact information
Location
Information and Communications Technology Building :
ICT 340
Courses
Introduction to Communication Systems and Networks (ENEL 471)
System Design of RF Transceivers (ENEL 519.60)
System Design of Wireless Transceivers (ENEL 604)
Preferred method of communication
Email
Research
Research areas
Wireless communications systems
RF and microwave circuits
Digital signal processing
Research activities
Wireless communication systems
This topic includes: power efficiency enhancement for wireless transmitters, mixerless transceivers, six-port receivers, self powered receivers for IoT applications, and advanced transceiver design for software defined radio and millimeter-wave applications.
RF and microwave circuits
This topic includes: RF energy harvesting circuits, RF front-end modules, antenna arrays, MMIC power amplifiers for wireless and satellite communications, Efficient and broadband power amplifiers.
Digital signal processing
This topic includes: Linearization of nonlinear systems using digital predistortion and postdistortion techniques, adaptive algorithms for massive MIMO and beamforming, multi-band and broadband linearizations of 4G and 5G wireless transmitters, and FPGA implementation of these signal processing algorithms.
Biography
Professor Helaoui received the MSc and PhD degrees in communications and information technology from École Supérieure des Communications de Tunis, Tunisia, in 2003 and 2006, respectively, and the PhD degree in electrical engineering from the University of Calgary in 2009. His research activities are funded by over $3 million over the last 10 years. These funds were provided by federal and provincial funding agencies (NSERC and AITF) and industrial collaborators such as the Canadian Space Agency, Ericsson Canada, Norsat International, Nanowave Technologies, the National Research Counsil of Canada,and CMC microsystems. He supervised over 50 graduate and undergraduate students and over 10 postdoctoral fellows.
Publications
His teams' research activities have led to over 150 publications, 1 book, 3 book chapters, and 11 patents. Many of his research publications are highly cited with a total of over 2300 citations, which resulted in h-index of 26 and a g-index of 46.
View and updated list of his publications.
Awards
Professor Helaoui won several awards including:
Excellence in teaching and supervision award (2016)
Early research excellence award (2012)
Research achievement award (2017 and 2018)
NSERC early career research excellence (2010)