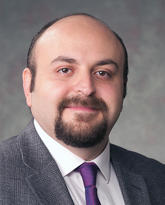 Mohammad Moshirpour
MEng Software Program Director
Schulich School of Engineering
Senior Instructor
Department of Electrical and Software Engineering
Schulich Chair in Engineering Teaching I
MSc
University of Calgary, 2011
PhD
University of Calgary, 2016
Contact information
Location
Information and Communications Technology Building :
ICT 345
Preferred method of communication
Please contact me by email.
Research
Research areas
Software design and architecture
Cloud computing architectures
Big data analytics
Engineering education; flipped classroom model, project-based learning
Biography
Dr. Mohammad Moshirpour received his PhD in software engineering from the University of Calgary in 2016. His PhD research was focused on devising methodologies for automated analysis of software requirements and design documents. His research interests include software architecture, software requirements engineering, design, implementation and analysis of multi-agent systems, intelligent data analytics, data mining and machine learning, and Software engineering and computer science education. He is a senior member of IEEE, and is the IEEE Chair of the Computer Chapter of the Southern Alberta Section.
Publications
M. Moshirpour, B. Far, R. Alhajj, "Applications of Data Management and Analysis", Springer International Publishing 2018. https://www.springer.com/gp/book/9783319958095
M. Moshirpour, B. Far, R. Alhajj, "Highlighting the Importance of Big Data Management and Analysis for Various Applications", Springer International Publishing 2018. https://www.springer.com/gp/book/9783319602547
E. Marasco, M. Moshirpour and M. Moussavi, "Flipping the Foundation: A Multi-Year Flipped Classroom Study for a Large-Scale Introductory Programming Course", (2017, June), Paper presented at 2017 American Society of Engineering Education (ASEE) Annual Conference & Exposition, Columbus, Ohio. https://peer.asee.org/28372
[2] E. Marasco, L. Behjat, M. Eggermont, W. Rosehart, M. Moshirpour and R. Hugo, "Using gamification for engagement and learning in electrical and computer engineering classrooms," 2016 IEEE Frontiers in Education Conference (FIE), Erie, PA, USA, 2016, pp. 1- 4. http://ieeexplore.ieee.org/document/7757352/
[3] E. Marasco, M. Moshirpour, "Studios and Sustainability: A Creative CDIO Approach to Computer Engineering Education", 2016 12th International Conference on Conceive- Design-Implement-Operate (CDIO), Turku, Finland. http://www.cdio.org/files/document/cdio2016/189/189_Paper_PDF.pdf
Awards
Teaching Achievement Award, 2017
ASTech Award, Excellence in Science & Technology Public Awareness, 2017