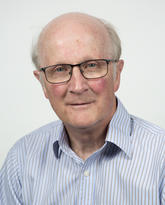 Nigel Shrive
Professor
Department of Civil Engineering
DPhil
Oxford University, 1974
BA - Engineering Science
Oxford University, 1971
Preferred method of communication
Please contact me by email
Research
Research areas
Structural mechanics applied to masonry
Structural mechanics applied to heritage structures
Biomechanics - cell, tissue, joint and cardiovascular mechanics
Research activities
Structural mechanics applied to masonry and heritage structures
Current areas of interest include the fundamental reasons and the mechanics involved when materials fracture when subject to compression; structural analysis of historic structures for conservation; the behaviour of masonry walls subject to in-plane shear; the behaviour and design of tall walls subject to axial and lateral loads; and the use of new materials in masonry (cements, mortars and units).
Biomechanics - cell, tissue, joint and cardiovascular mechanics
In the musculoskeletal system, current reasearch is aimed at understanding the underlying factors that initiate and drive the progression of osteoarthritis. This involves integrating the interactions between mechanical, structural and biological variables at the cellular, tissue and joint levels. In the Cardiovascular system, we are working toward clinical applications of the reservoir-wave approach we have developed to explain the haemodynamics of the heart and the arterial and vascular systems, as well as seeking further understanding of the system itself. The work in both areas is executed in collaboration with colleagues in the Cumming School of Medicine.
Biography
Nigel Shrive graduated from Oxford University, UK and moved to Calgary where he developed research programs in masonry and biomechanics. He has served in several administrative roles, including being Head of the Department of Civil Engineering 1989-1999 and Director of the McCaig Institute for Bone and Joint Health 2008- 2014. He held the Killam Memorial Chair at the University for two terms between 1999 and 2012. He has been elected Fellow of the Institution of Civil Engineers, UK, the Canadian Society for Civil Engineering, the Masonry Society, the Canadian Academy of Engineering, Engineers Canada and The Royal Society of Canada.
Publications
Some recent publications
Isfeld, A.C., Mueller, A.L., Hagel, M., Shrive, N.G., "Analysis of Safety of Slender Concrete Masonry Walls in Relation to CSA S304-14" Canadian Journal of Civil Engineering, 46 (5), 424-438, 2019
Iskander, M, Shrive N.G. "Fracture of Brittle and Quasi-Brittle Materials in Compression: a Review of the Current State of Knowledge and a Different Approach" Theoretical and Applied Fracture Mechanics, 97, 250-257, 2018
Sevick, J.L., Abusara, Z., Andrews, S.H.J., Xu, M., Khurshid, S., Chatha, J., Hart, D.A., Shrive, N.G. "Fibril Deformation under Load of the Rabbit Achilles Tendon and Medial Collateral Ligament Femoral Entheses" Journal of Orthopaedic Research, 36 (9), 2506-2515, 2018
Shekarforoush M., Beveridge, J.E., Hart, D.A., Frank, C.B., Shrive, N.G. "Correlation between translational and rotational kinematic abnormalities and osteoarthritis-like damage in two in vivo sheep injury models" Journal of Biomechanics, 75, 67-76, 2018
Tyberg J.V., Burrowes, L.M., Shrive, N.G., Wang, J.J. "Origin of the Forward-Going "Backward" Wave" Journal of Applied Physiology, 123 (5), 1406-1407, 2017
Awards
Renee Redfern Hunt Memorial Prize, The Institution of Civil Engineers 1984
Excellence in Research Award, American Orthopaedic Society for Sports Medicine (with others) 1987
John B. Scalzi Award, The Masonry Society 2000
Summit Award – APEGA, Alberta Ingenuity Research Excellence – Bone and Joint, with others 2005
Summit Award – APEGA, Best Project – Shawnessy LRT Station, with others 2005
Award of Excellence, Alberta Chapter American Concrete Institute – Shawnessy LRT Station, with others 2005
Best Custom Solutions, Precast/Prestressed Concrete Institute, Shawnessy LRT Station, with others 2005
Harry H. Edwards Industry Award – Precast/Prestressed Concrete Institute - Shawnessy LRT Station, with others 2005
CERF Charles Pankow Award for Innovation – Shawnessy LRT Station, with others 2006
International Federation for Structural Concrete: Award for Outstanding Structures - Shawnessy LRT Station, with others 2006
Elected Fellow of the Canadian Academy of Engineering 2009
Elected Fellow of Engineers Canada 2009
Killam Interdisciplinary Research Prize (with CB Frank) (University of Calgary, first time offered) 2010
Frank Spragins Technical Award, Association of Professional Engineers, Geologists
& Geophysicists of Alberta 2011
Killam Interdisciplinary Research Prize (with JV Tyberg) (Univ of Calgary, second time offered) 2011
Canadian Masonry Contractors Association Outstanding Achievement Award 2013
Elected Fellow of the Royal Society of Canada 2016
HWH West Memorial Award, The International Masonry Socoety 2018
Centennial Leadership Award, Association of Professional Engineers and Geoscientists of Alberta 2019