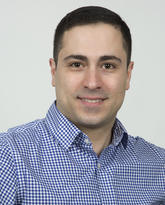 Paul Ziade
Senior Instructor
Department of Mechanical and Manufacturing Engineering
PhD - Mechanical Engineering
University of Toronto
MEng - Mechanical Engineering
University of Waterloo
BASc - Mechanical Engineering
University of Waterloo
Contact information
Location
Mechanical Engineering Building :
MEB224
Preferred method of communication
Email
Research
Research areas
Intelligent and autonomous systems
Energy engineering
Engineering education
Aerospace systems
Aerodynamics
Propulsion flight
Control
UAVs
Renewable energy
Wind energy
Numerical methods
High-performance computing
Computational fluid dynamics
Turbulence
Research activities
Dr. Ziade's research is focused on investigating problems in low-Reynolds number aerodynamics. Topics include large-eddy simulation (LES), flow stability and transition, and active flow control techniques. He mainly uses and develops computational tools to better understand underlying physical mechanisms as well as uncertainties associated with common mathematical methods. Paul is a member of the University of Calgary Aerospace Network (UCAN - www.ucalgary.ca/aerospace) and collaborates on a number of projects with the group.
Biography
Paul Ziade obtained his BASc and MEng degrees in mechanical engineering from the University of Waterloo. He completed a PhD in mechanical engineering from the University of Toronto, where he specialized in computational fluid dynamics (CFD), transitional aerodynamic flows, and flow control.

Prior to joining the University of Calgary as an instructor, Paul spent four years as an analyst in the Canadian nuclear industry. During this time, he performed stress analysis on nuclear fuel channels and developed computational tools for their analysis, was heavily involved in the development of probabilistic risk analysis methods, and managed projects of various scaled.

Paul joined the Department of Mechanical & Manufacturing Engineering in September 2016 as a tenure track instructor. He teaches courses in aerodynamics, fluid mechanics, engineering design, and dynamics. Furthermore, he advises numerous fourth-year design teams and is the faculty advisor for the Schulich Formula SAE team. Paul collaborates on several research projects with the University of Calgary Aerospace Network (UCAN) and consults with industry in a wide range of fields.
Publications
P. Ziade, M. Feero, P. Sullivan, A Numerical Study on the Influence of Cavity Shape on Synthetic Jet Performance, International Journal of Heat and Fluid Flow, Vol. 74 (2018), pp. 187-197.
P. Ziade, M. Feero, P. Lavoie, P. Sullivan, Shear Layer Development, Separation, and Stability Over a Low-Reynolds Number Airfoil, ASME J. Fluids Eng., Vol. 150(7) (2018): 071201-071201-12.
P. Ziade, P. Sullivan, Sensitivity of the Orr-Sommerfeld Equation to Base Flow Perturbations With Application to Airfoils, International Journal of Heat and Fluid Flow, Vol. 67 PB (2017), pp. 121-129.
Awards
Engineering Students' Society Third & Fourth Year Teaching Award, 2018
Schulich School of Engineering Teaching Achievement Award, 2018
Engineering Students' Society First & Second Year Teaching Award, 2018
Engineering Students' Society Professor of the Year Award - Energy Engineering, 2018
Engineering Students' Society Third & Fourth Year Teaching Award, 2017
Schulich School of Engineering Teaching Achievement Award, 2017