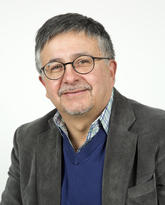 Pedro Pereira Almao
Professor
Department of Chemical and Petroleum Engineering
Postdoctoral Fellow
University of California at Berkeley, 1987-1990
PhD - Heterogeneous Catalysis
L'Universite de Poiters, 1979
Chemist
L'Universite de Poiters, 1976
Contact information
Location
Calgary Centre for Innovative Technology :
CCIT 118
Research
Research areas
Catalysis
Fuel cells
Advanced oil recovery
Thermal recovery processes
In-Situ Combustion
Activities
Key aspects of Dr. Pereira's research group include: evaluation of field and in-situ upgrading paths; synthesis of catalysts from nano to conventional size and development of catalytic processes for upgrading and refining; monitoring of process variables; evaluation of upgrading schemes, and; conceptual engineering to process heavy crude oils.
Biography
Dr. Pereira graduated as a Chemist in 1976 and obtained a doctorate in Heterogeneous catalysis, both from L'Universite de Poitiers, France, in 1979. He was a chemical engineering professor at the "Universidad de Los Andes" in Merida-Venezuela for seven years and a postdoctoral fellow at the Lawrence Berkeley Laboratory-University of California, Berkeley during the period Oct.1987-Dec.1990. He has since dedicated his professional and research activities to catalysts and catalytic processes development using both steam and hydrogen for heavy oils and residuals upgrading. He has also published on the Hydrogen generation from coal steam gasification and patented first on a catalyst for methane coupling, to produce Ethylene/ethane. Dr. Pereira is the author of more than 60 published articles and presentations,and more than 10 International Conferences and Seminars. He dedicated 14 years as a Research and Development Leader at a major Petroleum corporation where he co-invented and coordinated the development of the two major competitive upgrading technologies, named Aquaconversion and HDHplus. Dr. Pereira has 7 patents on the areas and processes above mentioned. Between 1999 and 2002, he gained technology business and management experience as well as knowledge in technology strategic planning. His activities nowadays pursue significant improvements to the upgrading of Athabasca bitumen and other Alberta and Canadian heavy oils by combining research in applied catalysis targeting specifically designed catalysts, with research of upgrading processes integrated with the selective separation and conversion of coke precursor molecules from selective deasphalting and gasification. This has the potential to generate technology commercialization that will promote cost-effective conversion of the bitumen and heavy oil reserves in Canada and throughout the world into valuable products.
Publications
Selected Publications
P. Pereira-Almao (2012). In situ upgrading of bitumen and heavy oils via nanocatalysis. The Canadian Journal of Chemical Engineering. Volume 90, Issue 2, pages 320–329, April 2012.
Hashemi, R., Nassar,N. N., & Pereira Almao, P. (2013). In Situ Upgrading of Athabasca Bitumen Using Multimetallic Ultradispersed Nanocatalysts in an Oil Sands Packed-Bed Column.Energy & Fuels, 28(2), 1338-1350.
Fathi, M. M., & PereiraAlmao, P. (2011). Catalytic Aquaprocessing of Arab Light Vacuum Residue via Short Space Times. Energy & Fuels, 25(11), 4867-4877.
Awards
Awards
2005 - Departmental Research Excellence
2004 - Fueling Our Energy Future - Hydrogen Power - Advanced Oil-upgrading Technology Could Power Hydrogen World