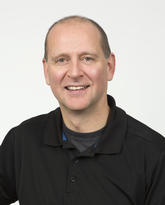 Peter Goldsmith
Associate Professor
Department of Mechanical and Manufacturing Engineering
Associate Head of Undergraduate Studies
Department of Mechanical and Manufacturing Engineering
PhD - Mechanical Engineering
University of Toronto
MEng - Mechanical Engineering
University of Calgary
BSc - Mechanical Engineering
University of Calgary
Courses
Robotics (ENME 505)
Foundations of Mechatronics (ENME 461)
Preferred method of communication
Email
Research and teaching
Research areas
Intelligent and autonomous systems
Robotics and mechatronics
Human-machine interfaces
Activities
Teaching
Dr. Goldsmith teaches in the areas of robotics, control systems, mechatronics, and mechanisms.
Research
Dr. Goldsmith's research interests include robotics, mechanism design, control systems, human-machine interfaces, cognitive systems, mathematics, and education. He has patents pending for a novel remote actuation system and a method for precise human teleguidance.
Biography
Dr. Goldsmith is the Associate Head (Undergraduate) in the Department of Mechanical and Manufacturing Engineering. Prior to completing his PhD in robotics at the University of Toronto, Dr. Goldsmith held research positions at Nova Husky Research Corporation in Calgary and at the Department of National Defence in Ontario, Quebec and Alberta.