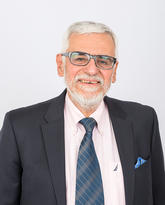 Roberto Aguilera
Professor
Department of Chemical and Petroleum Engineering
Contact information
Location
Calgary Centre for Innovative Technology :
CCIT 220
Research and teaching
Research areas
Geo-science evaluation of tight gas sands reservoirs
Formation evaluation(petrophysics and transient pressure analysis) of tight gas sands reservoirs
Stimulation of tight gas sands reservoirs
Forecasting reservoir performance of tight gas sands reservoirs
Other unconventional gas sources (shale gas, coal bed methane, natural gas hydrates)
Economics of unconventional gas resources
Naturally fractured reservoirs
Research activities
Dr. Aguilera has developed several petrophysics and reservoirs engineering techniques for evaluation of naturally fractured and unconventional reservoirs that are widely used in the oil and gas industry throughout the world.
Dr. Aguilera's research interests include the evaluation of naturally fractured reservoirs, tight and shale reservoirs, petrophysics, hydraulic fracturing, forecasting reservoir performance, and economics. Previously, Roberto was an NSERC Industrial Research Chair (ConocoPhillips NSERC-AERI Chair). The chair focused on evaluating unconventional sources of tight gas to determine the economic viability of recovering these resources.
Biography
Dr. Aguilera is a Distinguished Author of the Journal of Canadian Petroleum Technology (1993 and 1999), a recipient of the Outstanding Service award (1994) and the Distinguished Service Medal (2006) from the Petroleum Society of CIM, and a Society of Petroleum Engineers (SPE) Distinguished Lecturer on the subject of Naturally Fractured Reservoirs for the 2000-2001 Season. He was an AAPG co-instructor on fracture reservoir analysis from 1984 to 1996. In addition to several research papers, he is author of the book Naturally Fractured Reservoirs (PennWell, First Edition 1980, Second Edition 1995), co-author of The Technology of Artificial Lift Methods (Vol. 4, PennWell, 1984) with Kermit Brown et al., co-author of Horizontal Wells (Gulf Publishing Co., 1991), and co-author of Determination of Oil and Gas Reserves (Petroleum Society of CIM Monograph No. 1, First Edition 1994, Second Edition 2004). He has rendered training, lecturing and/or consulting services in over 40 countries around the world.
Dr. Aguilera is a member of the Petroleum Society of CIM, SPE, CSPG, AAPG, SPWLA, CWLS, APEGGA and ACIPET; and a director of Junex Inc. in Quebec and Servipetrol Ltd. in Calgary.
Publications
Aguilera, R. "Naturally Fractured Reservoirs". (1980, 1995) PennWell. Tulsa, Oklahoma.

Aguilera, R. & The Geological Society "Advances in the Study on Fractured Reservoirs". (2014) London, England.

"Incorporating capillary pressure, pore throat aperture radii, height above free-water table, and Winland r35 values on Pickett plots". AAPGBulletin, V. 86, No. 4 (April 2002), P. 605-624.

Aguilera, R. "Flow Units: From Conventional to Tight-Gas to Shale-Gas to Tight-Oil to Shale-Oil Reservoirs". Society of Petroleum Engineers, V. 17, No. 2 (May 2014), P. 190-208