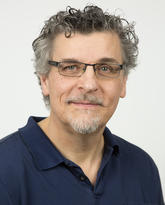 Ron Hugo
Professor
Department of Mechanical and Manufacturing Engineering
Director
Pipeline Engineering Centre
Chair in Engineering Education Innovation
Li Ka Shing Foundation
PhD - Aerospace Engineering
University of Notre Dame, 1995
MS - Aerospace Engineering
University of Notre Dame, 1991
BSc - Mechanical Engineering
University of Calgary, 1989
Contact information
Location
Mechanical Engineering Building :
MEB309
Courses
Heat Transfer
Introductory Fluid Mechanics
Mechanical Engineering Thermodynamics
Research
Research areas
Multiphase flow
Non-destructive testing and evaluation
Waste heat recovery
Pipeline-based compressed air energy storage
Activities
Current research
Ron Hugo's researching the application of tomographic imaging of multiphase pipe flow; the development of waste heat recovery technology from low-quality waste heat sources; and the development of optical-based non-destructive testing technology for application to pipeline systems. His interests in the field of engineering education involve exploring the combination of on-line delivery with project-based learning for the development of strong technical fundamentals alongside the professional skills of engineering practice.
Pipeline Engineering Centre
As Pipeline Engineering Centre Director, he helps to coordinate collaborative research activities of professors from the Schulich School of Engineering and the Faculty of Science within the University of Calgary. These activities include the process of facilitating industry-university interactions, joint research initiatives and projects, and overseeing the process of highly-qualified personnel development through both graduate education and short-course professional training.
Biography
Dr. Hugo came to the department in July of 1999 after spending four years as a research scientist with the US Air Force Research Lab in Albuquerque, NM where he performed basic and applied research in support of the Airborne Laser program. Dr. Hugo's research interests involve the development of high-temporal bandwidth optical-wavefront measurement systems and their application to non-intrusive flow interrogation. Of current interest is the flow of an axisymmetric jet exhausting into either a quiescent or a cross-flow environment, and the application of both passive and active flow control methodologies to enhance the mixing process under varying external conditions. These flows are of industrial concern in applications such as process burners, process heaters, incinerators, jet-engine combustion and exhaust, and flare-stack burners.
Non-intrusive optical wavefront measures of the Shack-Hartmann variety provide a means of understanding the spatial development of the jet's evolving vortical structure at high-temporal bandwidth. These measurements, coupled with more traditional measurement techniques involving micro-thermocouple temperature probes, hot-wire anemometers, and gas sampling probes are used to assess, understand, and improve the methods of jet-flow control. The resulting benefits of such research are improved combustion efficiency in the case of energy release, improved destruction efficiency in the case of incineration, and a reduction in acoustical emissions in the case of engine exhaust.
Publications
Select publications
"Naturally-Forced Slug Flow Expander for Application in a Waste-Heat Recovery Cycle," Energies, pp. 7223-7244, vol. 7, 2014.
"Compressed Air Energy Storage (CAES) with compressors distributed at heat loads to enable waste heat utilization," Applied Energy, pp. 165-179, vol. 103, March 2013.
"Stereo Particle Image Velocimetry Applied to a Vortex Pipe Flow," Experiments in Fluids, pp. 333-346, vol. 40, no. 3, March 2006.
Awards
2016 Mechanical Engineering Professor of the Year
2006 ESS Teaching Excellence Award
2005 Students' Union Teaching Excellence Honorable Mention
2004 Department of MME Teaching Excellence Award
2004 APEGGA Summit Excellence in Education Award
2004 Mechanical Engineering Professor of the Year
2003 Faculty and Departmental Teaching Excellence Awards
2002 Department Teaching Excellence Award
2002 Students Union Teaching Excellence Honorable Mention Award
2001 Department Teaching Excellence Award
2001 Faculty Teaching Excellence Award
2001 Mechanical & Manufacturing Engineering Professor of the Year
2000 Student Union Teaching Excellence Award